Viewing Post for: Galapagos 2010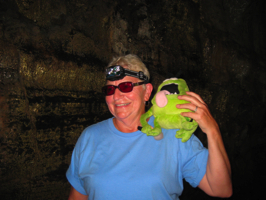 Date: April 7th, Wed
Location: Floreana Island
Alice takes Mt Mike under the volcano in a lava tube. We were out of the sun here.

Up in the morning bright and early! We went to see the Wall of Tears. It is a left as a monument to the prisoners who were on the island after the second world war. Treatment was so bad, there was an uprising and the guards were overwhelmed and the manager murdered. Today, no such murder. We rode in the boats, 2 hours to Floreana. It has less then 100 people! Only one telephone, fans in rooms but no ac. Most people on the island are descendants of the original families, more murders took place here and there is still an air of mystery.

Thank you who are reading. We read your posts each night. It is great to share the trip with you. Betty, not sure why you did not come?
---
Messages for this post
Currently there aren't any messages for this post.
No more comments are allowed at this time.