Viewing Post for: New Zealand Adventure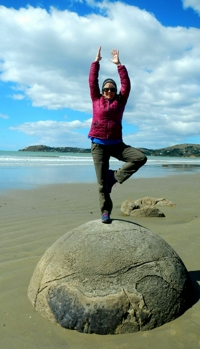 Date: FEBRUARY 29, MONDAY, LEAPING YEAR
Location: DUNEDIN
We have crossed again out of the mountains and are back on the east coast. The boulder is part of a geologic anomaly we stopped to visit. Ate lunch of delicious local seafood before heading to the lovely town of Dunedin.

The peninsula nearby is a sea life bonanza. We went to the far point to the only breeding colony of albatross on mainland. They are huge and soared above us. Lots of other sea life there. We walked so close to resting seals we could hear them breathing.

Tomorrow the picture will be of the penguins we visited nearby. We ate dinner at a local seaside pub.

Trivia question. ..what is a flat white? This is your kiwi word of the day.
---
Messages for this post
For: rick
Oh No!!!!! Don't eat fish again. Remember what happened on the last trip!!!! Up in Regina. NO SNOW here. Miss you and see you soon. Lisa M
---
Lisa M - 2/29/2016
No more comments are allowed at this time.