Viewing Post for: New Zealand Adventure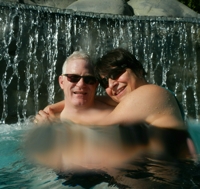 Date: FEBRUARY 24, WEDNESDAY
Location: Hanmer Hot Springs, 2 hours nw of Christchurch
Wow! We are all here. SAFE and arrived early. We stopped downtown Christchurch to see the very interesting rebuilding of the city after the devastating earthquake of 2011. The buildings are new, vacant, temporary and some are fenced off and falling down. The city is still debating what way to take the rebuild.

Beautiful weather as we drove 2 hours across and into the mountains. We ended at Hanmer Hot Springs, a beautiful little resort town. Some hiked and some shopped. You guess who was who, before we spent several hours soaking in a variety of hot springs.

Dinner was cooked in our villa beneath a beautiful sunset over the mountains to our west.

All in the first amazing day.

From Karen and Bill, Happy Birthday from New Zealand to granddaughter Stella! 11 today!

Feel free to blog us back!
---
Messages for this post
For: Greg and Barbara
Thinking of you guys! Not only am I looking forward to great pictures and tales, I am hoping you will have new gear reports. Greg always seems to have some item either he or Barbara is testing! Rick's report said you all sampled different hot springs...is there a difference between them or just different places?
---
Catherine - 2/25/2016
For: Pakulski's
Thank you for the birthday wishes! Glad you enjoyed your first day! Take lots of pics!!
---
Stella - 2/24/2016
For: Pakulski's
Mid 30's, raining hard all day and depressingly gloomy here. Good for nothin' weather, snow disappearing rapidly. You picked the right place to be! Sounds like you're off to a great start. Enjoy your time "down under" (or is that only for Australia?)
---
Craig & Kathy - 2/24/2016
No more comments are allowed at this time.