Viewing Post for: Inca Trail 2015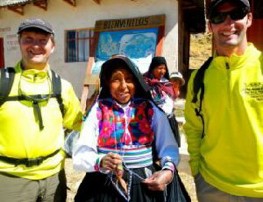 Date: Friday, August 21
Location: Lake Titicaca and heading home
Fantastic day again. Our mothers lead us back to the harbor where we bordered a boat to Taquile island. Here the men knit and the woman weave. We learned which way to wear our tassel on our hats to show if we are single or married. Very handy and cheaper then diamond rings. Lunch was high on the island outside where we could see the whole lake. Both Bolivia and Peru, over 20,000 foot peaks... wow. The lake is so beautiful. The islands have no cars and have worked hard to develop community tourism. Such as rotating which house gets visitors.

A couple hours on the boat brought us back to Puno. We ate a wonderful dinner at a French Peruvian fusion restaurant.

Tomorrow is filled with more activities. We stop at a pre-Inca site. Many come here to feel the energy. Sure enough if you pull out a compass it points in weird directions, so there must be something some people can feel here.

A plane will take us to Lima and dinner is on the pier at a famous seafood restaurant.

Our flight doesn't leave until 4 am so what we do after dinner, you will have to ask us when we get home.

4 people are staying the extra day to get a city tour.

We thank you for following us. It is so wonderful to share with those we love who cant be here the trip. Hopefully we will see some of you at the PPS reunion in the fall. Our next live blog will be India and the Dali Lama in November.

Sending both peace and adventure from 12,200 feet in South America...
---
Messages for this post
For: Torey & TJ
What a great adventure you have had - safe journey's back - I was complaining about getting up at 5 am to go get the girls from Woodward then I saw your flights were at 4 am so I guess I can't complain. I so enjoyed following your journey - can't wait to see pictures. You should have a viewing party at the gym!!!
---
Hollederer's - 8/22/2015
For: To all
Safe journeys home. I know we can't wait to welcome Soha and Beej and I am sure each of your friends and families feel the same. Thank you for sharing your adventures, challenges and spiritual moments - now bring home some good home brew and chow recipes and we may stop feeling jealous. Travel home well.
---
Sona - 8/22/2015
For: Jim
Sounds as though Machu Pichu was amazing I cant wait to see the pictures. The boys could not believe you were in the Amazon rainforest. Zack thought that was too cool. They start school again on Tuesday. We had meet the teacher last night. Cayden can't wait for Kindergarten. We love you.
---
Tara - 8/21/2015
For: Everyone
Peace and adventure to you all from Ohio! Wishing you all safe travels back home. Sistas, Can't wait to set up a Google hangout to hear all about it! Love ya, safe travels!
---
Ruchi - 8/21/2015
For: Tor/TJ
Torey and TJ- PS: From Shelby "I want to know when I am going to be able to go on a real walk!!" Love, Shelby
---
Sharon/mom - 8/21/2015
For: Tor and TJ
Hi guys!I have to say, this trip you are on seems endless, as though you have been gone forever.I am excitd that you will be home soon, not just because I am looking forward to hearing about your trip but because I miss you both so much.Things here have been busy. I may have been putting in about the same amount of milage each day as you have but the scenery hasn't been anything like what you have seen:)Keep enjoying your journey, have fun, be safe.We love you very much. YMom and Forever Jacquie
---
Sharon/mom - 8/21/2015
No more comments are allowed at this time.