Viewing Post for: Everest Base Camp 2014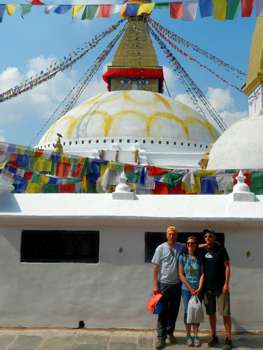 Date: Wednesday, October 28
Location: back in Kathmandu!
Yes, 5 am skies were clear so we rose and got on the first flights out of Lukla. We were in Katmandu by 7:30 am. Incredible continuation of our good luck.

Last night we danced, drank raski and celebrated with all of our Nepali friends from the trek. Round and round the wood stove we went to Nepali and Hindi music.

Now we are in Boddanath. The giant stupa and Tibetan area you see in movies. Time to eat Buffalo burgers and shop. Found some rock hard yak cheese to try.

The hotel is lovely quiet and we are celebrating the showers and bathrooms en suite.

Tonight we go to the home of Zimba and family who we have known for 35 years. Tomorrow night an old friend from USA who has lived here for 40 some years will host us. A wonderful way to reflect, wind down and learn more about this amazing country.

We are researching how to help our younger sherpa, Nawang gain more English and first aid skills before we leave town.

This will be our last post. Thank you for following us. Hopefully we will see many of you at the reunion on the 8th of November.

Kami is planning on joining us to visit the Dali Lama and trek in India in November 2015. Let is know if you want more information.
---
Messages for this post
For: Rick and company
Truly loved reading about and hearing about your journey. It has been one year since I made the trek, but your accounts made it seem like I was there again. Thank you all for sharing the adventure. Namaste
---
Melissa - 10/28/2014
For: David
We're delighted for you, David! Much to celebrate when you return. See you soon after your re-entry to the lowlands. Have a safe flight home.
---
Caroline and Gerry - 10/28/2014
For: Sarah
Safe journey home to all. I'm sure you and Garth will have many amazing stories to share. Looking forward to a phone call when you are back in Rochester!
---
Mom - 10/28/2014
For: Rick
Congratulations on another successful adventure, and thank you for your expert guidance and keeping everyone safe on this trek. I love seeing your daily posts & photos, and am sorry this is the last one! Hope to meet you one of these days. If you ever want to come to DC for a visit, just let us know!
---
Priscilla Peterson - 10/28/2014
For: Kevin
Sorry I have not kept up too much. I hope it is all going well and you have fantastic time. Shalom, Alan
---
Pastor Alan - 10/28/2014
For: John P.
I am glad to hear all went well with the remainder of your trek and the flight back to Lukla. I look forward to seeing pictures of Kathmandu as well as Everest You all will probably think you have stepped into some kind of time warp when you return and discover that the price of gas has dropped to under 3 dollars in your absence! Another oddity is that today it is supposed to be 80 degrees here in DC, but by Saturday only 35. You must be bringing the cold air from the mountaintop with you!
---
Priscilla - 10/28/2014
For: Carlos (Charlie) and Nick
Well, you are almost at the end of your journey. Enjoy the remaining days with your new friends, your guide and the lovely people of Nepal. One question....other than family, what is the one thing you missed the most? Can't wait to see you. XXXOOO
---
Noly and Pop - 10/28/2014
For: Garth and Sarah
It is good to see that you are taking time to celebrate and relax in the final days of your amazing journey. We are looking forward to your return home and hearing all your stories. See you soon!! Love, Mom and Dad
---
Rob and Linda - 10/28/2014
No more comments are allowed at this time.