Viewing Post for: Inca Trail I 2013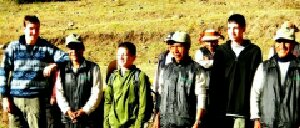 Date: July 17, Wednesday
Location: Inca Trail, 12,500 feet, 6.5 miles. Llulluchapampa
Picture is of 3 brothers who are local farmers who are portering for us along with our family of brothers. Long uphill hike. Malini went down and back to town as it got too hard. Spectacular views of MTS. Today, glaciers and sheer peaks rising above the rushing stream. Locals in their colorful skirts, unique hats and bright blankets pass us. We are camped beneath the crux of the hike, Dead Woman Pass. Almost 14,000 feet tomorrow morning.
---
Messages for this post
For: The Campbell's
Looks like you are having a terrific time! All is well at the homestead...just hot as hell. Hope Lucas has had a chance to practice his Spanish.
---
The Karlowicz's - 7/19/2013
For: Peru Gang
Our thoughts are with you. Wish we could be there but all is well here. Funeral is Tuesday. Looks like CJ will be coming. Barbara and Greg
---
Barbara and Greg - 7/19/2013
No more comments are allowed at this time.