Viewing Post for: 2013 Kilimanjaro Cancer Climb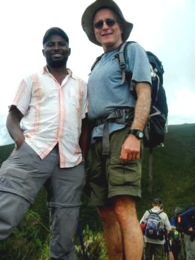 Date: February 13,2013
Location: Shira 1 camp, 11,500 feet
6 hours of hiking today.

Hi all. We have left the trees behind and are in the alpine area. One or two people feeling the altitude today but are recovering as we rest. Kilimanjaro is hiding behind the clouds but as the rain showers clear the group will be surprised and shocked to see how close and how far we have to go. The group is getting close fast. Dining tent discussion range from our bodily functions, a favorite discussion topic to our families and our lives. They are blown away by the service the Africans provide us and the care. Eric with his big camera is turning into our main photographer. We appreciate your following us.
---
Messages for this post
For: Jennifer and Mike
Happy Valentine's Day! I know, a day late now...but the thought counts. Jane Hale gave each of us a Valentine saying "the lamps are different. The light is the same." Something for the two of you to ponder as you breathe through any altitude sickness! Snowing huge flakes here - monster flakes. I'm sending everyone positive thoughts with each individual flake!
---
your favorite sister - 2/14/2013
For: Moo and Uncle Torey
Happy Valentine's Day to all the climbers!! I hope everyone is doing well and those who were feeling sick are hopefully feeling better !! Moo Moo and Uncle Torey I hope you both are doing well and are making amazing memories you can share with us when you return home. Love you both !! BELIEVING IN YOU ALL !!!
---
Katie - 2/14/2013
For: Tammy
Thinking of you dancing with the Africans! Hope you are keeping warm at night. You can use those extra hand warmers around your tootsies. And keep the oyster crackers handy!
---
Marcia - 2/14/2013
For: Mooie and uncle Torey
So I am just in tears for those of u who are feeling ill already! Rick please assure them it won't pass lol but seriously to all I was sick the entire trek and did not think I was going to make it to summit waking up on day 6, BUT u have support there, and many many Friends an family here rooting for u u are all so strong just keep believing! Only 4 more days until u reach heaven don't ever give up! Love u, Ang
---
Sissy - 2/13/2013
For: Moo & Uncle Torey
Hey!! Hope day 2 went well and you're both hanging in there and staying strong! Moo, the dogs are doing good! Playing like crazy tonight and they're both eating! Skyy has an obsession with my hair, so weird! And don't worry, they're gonna have clean teeth when you get home...they ate my toothbrush while I was in the shower! Besides that, they're perfect happy little dogs!! Good luck to the whole group on day 3! Thinking of you often! Love & miss you both!! Xoxo
---
Kerri - 2/13/2013
For: Torey and Marianne
Hello you two! I hope that climbing is going well! I brag about the two of you every chance that I get, I am beyond proud. Remember to keep those chins up high, and stay warm! I feel like I am seeing more Tinkerbell's than usual since you have left, so I know she's with you every step of the way :) I love you both! Love, Megan Dressel
---
Megan D. - 2/13/2013
For: Troy
How's it going up there?
---
Mike Parsons - 2/13/2013
For: Rick)
Type your message here.. Glad to see all is well.Seems like all trips center of conversation are on those functions!Keep safe-say hi to the Africans for me.
---
Daddeo - 2/13/2013
For: Chris Lilly
Happy Valentines Day. Hiking up and down Bristol Mt. is paying off now huh. Your Mom wondered if you guys sing kumbiya around the camp fire. ha ha. Love you be safe.
---
Mom and Dad - 2/13/2013
For: Ricky and friends
Its great to hear your present travels, reminding me of our trek,every step of the way. Enjoy everything, drink lots of water. Love to Yusuph and mohammed(s).
---
Kevin Mudd(flaps) - 2/13/2013
For: Torey & Marianne
Hope youre doing good and we are following you up the hill! Enjoy the climb! Love Mom & Dad Hirsch
---
Mom & Dad H. - 2/13/2013
For: Eric
Claaaaaaassic Eric! Can't wait to see your pics!!
---
Stephanie - 2/13/2013
For: Marianne & Torey
Glad to hear from you!! FYI to all the climbers: your dining discussions, of bodily functions, sounds like just another nite at the Flemings! I'm sure you will be coming home with some pretty fun stories! Take care of yourselves, be safe. Love to all, Me
---
Mom/Sheryl - 2/13/2013
For: Eric
Can't wait to see those fabulous pics! It must be so amazing!
---
Cheryl - 2/13/2013
No more comments are allowed at this time.