Viewing Post for: Antarctic Adventure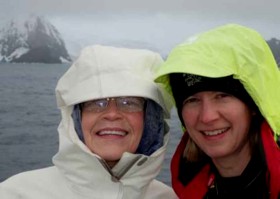 Date: Monday, January, 9, 2017
Location: Elephant Island - Point Wild
Jill here: I've hijacked Rick's tablet for today's post.

We just crossed the 60th parallel and are officially in Antarctica. We're on our our way to Elephant Island for our first (hopefully) excursion of the trip. This is the place where Shackelton landed after breaking free from the ice, on the way to South Georgia Island.

The excitement on board is palpable. Lots of preparation and mandatory meetings today to prep us for using our gear and our first round of zodiac landings.
---
Messages for this post
For: Marcia
Wow i never knew ther were snow bunnies in white outfits there too!! Bob
---
BOB French - 1/15/2017
For: Peggy MacKellar
You made it! You're officially there! I hope you're feeling well and your sense of adventure is still intact. I've been thinking of you every day. Thanks for sharing this blog so we can keep track of you and your companions. xoxo
---
Katie Hart - 1/10/2017
For: Kathy Kennedy
We are all following your trip. Hope you aren't cold (you know me!). Hope you are having a wonderful time. Sounds exciting!!! Sneak home a little penguin for us. LOL.
---
Kerry - 1/10/2017
For: Susan Holmes
How is elephant island? Can you imagine how Shackelton felt when he saw land. Hope all is well and healthy see Ya next week Joe
---
Joe - 1/10/2017
For: Kathy
Peering at the massive iceberg, I needed more, so I went to Youtube for a video. What a massive experience! I found myself thanking God for the beauty and your opportunity to be there. I have never desired to travel far, always content with family and the foreign challenges of my work. Whew, that has all changed as I picture you there, breathing the cold air and feeling the breeze. Thank you for taking me on your trip with you! Love, Paula!
---
Paula - 1/10/2017
For: Kathy K
I'm so very excited for you and your group! With Elephant Island named after the beach master (as Dan so fondly calls them) - can't wait to hear if you'll sight any. Enjoy Land Ho !
---
Michele - 1/10/2017
For: Susan Holmes
I have been missing and thinking of you everyday! Hope the rough seas did not get the best of you. I think you and Gee are going to have a great and fun time together, if not already! Oh, by the way you forgot your evening gowns!!! Enjoy all the days, they will go fast. Enjoy happy hour, and Have one for me! Love, Michael
---
Guess who? Michael - 1/9/2017
For: lise
I will bet it is warmer there than here. How exciting...Elephant Island. We never got to land there due to heavy seas. Absorb all the adventure that surrounds you. Hope you are enjoying all the fun on the Vavilov.
---
melisa - 1/9/2017
For: Marcia
Victor is doing well and misses you but is being spoiled rotten. Safe travels!
---
Angela kemp - 1/9/2017
For: Lise
Lise, you've got to take a picture when your boots first hit the ground at the bottom of the world! It's one small step for man, and one giant leap for the Crapellas!
---
The Tanises - 1/9/2017
For: Susan Holmes
Hi Mom! So excited for you!!! Very proud of you and hope you have a safe and amazing experience. My first day went well and I realized how much I missed working. Anyway, take many pictures and I look forward to checking in on your progress every couple of days. Love, James.
---
James - 1/9/2017
For: Peggy MacKellar
I can't believe it. I hope that your gobbling oodles of info and had a chance to use your new camera. It was minus 21 here this morning. Respond if you can and enjoy
---
Andrea - 1/9/2017
For: Jennifer Gold
You've finally made it - The White Continent. A clean sweep. Really hope you got to set foot on land. A bit of hiking? How exciting. And being on the open water out there in a Zodiac will be nothing short of magnificent. Keep up the good work everybody, and make the most of it. Seize every second and come back with stories and experiences aplenty. Miss you Jen. Keep enjoying it. Xox
---
Jack - 1/9/2017
No more comments are allowed at this time.