For over 20 years our leaders have been the core of what we are. Their background is broad. What they all have in common is an uncommon ability to connect with people. You are always the focus of our trips. Many of our participants become life long friends. We have seen their children grow up (sometimes they have ended up in our office), moved along in life with them and grown up ourselves with them. Our staff's talent in helping you gain the most out of your trips sets us way apart from other organizations.
The following is just a sampling of our American Staff. In addition each area of the world we travel to we find the finest of individuals to share their part of the world with you. Whether it is how to cut a fresh mango, how to make corn beer, explain how to make a phone call, where to find the next yak to town, or explain the politics or history of an area you will have a broader, more life complete experience then any where else. All of our staff have consistent and repeated training in wilderness first aid, expedition management, safety precautions, group dynamics and customer service. They all have many years experience working with people before you will meet them.

RICK FRENCHOwner and Cocreator of PPS. Experience on 7 continents including the highest points on several and with clients ranging from adjudicated youth to executive programs and everything in between. Since 1980 he has worked full time in the outdoors spending more nights in tents, igloos, mud huts and under the stars on many corners of the world then his own house. He has crossed continents by bike, paddled in jungles, trekked in the highest mountain ranges and eaten raw whale among other delicacies. His specialty is using activities for group development. He has never had a real job and receives multiple offers for his job yearly.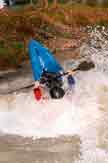 RANDY FRENCH He started out sewing stuff sacks and teaching skiing. Randy has an education background in art, science and math. He could not decide which one to choose so started PPS. Over the last 20 years Randy has spent time leading groups year round from river to mountains all over the world. He annually ranked in the top ten in cross country ski racing in NY for years and still gives the college racers a good race. He has written arcticles on teaching skiing and has been doing clinics to train other instructors in cross country skiing in the Northeast for almost 15 years. From tele turns on Marcy to hiking the Himalayas, Randy is happiest when he is tramping in the outdoors. When his wife and two children are along, life is close to perfect in his opinion. He likes to share his enthusiasm with others when exploring by canoe, sea kayak, foot or other modes of adventure.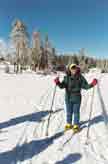 DEB FRENCH Cocreator of PPS. Well , it all began many years ago on the shores of Hemlock Lake. The first date, the first canoe ride and the first initiation into Pack Paddle Ski. Randy had just started the company and now I was his "assistant" I was still in college studying dance and psychology, so when I wasn't in rehearsal , performance, or classes, I was out paddling , hiking, or skiing in some beautiful place. That was about 20 years ago and I am still out paddling , skiing , and hiking in beautiful places all over the world. Now however, I bring Kiana and Cameron, my children , along with me as my "assistants" . They are amazing outdoor enthusiasts and love to go adventuring. I still manage a few plies' here and there , when I am not off on adventures to far away places.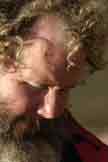 MIKE BARNARD Mike leads a life of adventure. Trained as a photographer he has lugged his large wide angle camera to many distant places. His resourcefulness has helped groups get gas when the next shipment was not due in for a week in the arctic so the group could leave town and helped make clients comfortable when a freak summer snow storm prevented the group from meeting its bush plane pick up for a week. His thoughtful assistance has helped people carry huge moose antlers and then rescue them from a flood. Whether it is searching the back streets of Kathamandu or paddling a dug out canoe, Mike provides superior care for his trip companions.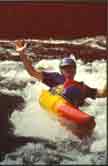 JIM ELLIS Jim is an extraordinary teacher. Professionally trained as a teacher and director of technology for a school system, Jim can instruct kayaking and show you the pictures on his palm pilot. Jim started out working with children in a residential setting and has countless hours teaching since then in all types of environments and all populations. He is happiest in his boat whether just sitting in it his barn or on the river helping you enjoy yours.

DJ KITZEL A through hiker of the 2000 mile Appalachian Trail DJ is a teacher at heart. He is an instructor at Eco School and his classes have built canoes and paddled NYS in search of history lessons. He has instructed in Maple Sugaring and Oxen use along with stone building. He once bought land to build a home on with just an ax. Moderation forced him to live in a remote cabin in the hills surrounded by a stream and woods. His Irish roots have lead him back to trips there.

BOB THOMPSON A "NYS Teacher of the Year" Bob has created the best outdoor curriculum in a school in NYS. His students take part in roller blading, kayaking, canoeing, cross country skiing, rock climbing, bikiing, and orienteering as part of a regular public school curriculum. Bob is also an Alpaca farmer whose animals share the barn with his climbing wall.

MARC CONNOLLY Marc is a manager of Emergency Services Programs at Monroe Community College. He been trained for 20 years in EMS and is a paramedic. His wilderness experiences have included mountains and rivers on 3 continents with groups of people and owning a huge pack to carry Rick's extra mountianeering gear. His awards have included the National Institute for Staff and Organizational Development for contributions for teaching and learning award. His training has included NOLS, National Association for Search and Rescue and has an MBA from Northeastern University. He likes his mountain biking muddy.

BRYAN FRENCH "My experience with outdoor adventures started while I was growing up in Scouts and with my family. After working in an office for a number of years, I decided that I would be much happier helping people experience the great outdoors than working inside. So I left behind my desk and moved my office into canoes, kayaks and a backpack. I enjoy helping people to enjoy the simple things and sometimes slower pace of being in the outdoors. I enjoy the full range of activities, from the easy half-day walks and canoes to the more extreme extended wilderness trips. My other hobbies include tennis, soccer, coaching and magic."

STEVE FRENCH Steve is cocreator of New Horizons which is an outdoor social development program for youth. His MSW is applied to his private practice along with his exceptional ability to connect with youth and adults. He currently is setting up a tepee on his land to summer in.
REED HOFFMAN Reed Hoffmann's been taking pictures since 1972, the last 25 professionally. Working for newspapers in Indiana, Alabama and New York (Rochester) for over twenty years, he's currently freelancing out of Kansas City. Assignments have taken him from Australia and New Zealand to the Atlas Mountains of Morocco, Argentina's Patagonia region and the High Peaks of the Adirondacks. Current clients include USA Today, Sports Illustrated, The New York Times, Nikon and Lowepro. He's taught photography workshops across the US and in India, and is currently teaching the Nikon School of Photography digital seminars. Whether you've got a simple point-and-shoot camera or an SLR with all the lenses, this will be a fun-filled trip where everyone will come back with better pictures and great stories to tell.

BOB FRENCH "I'm retired. I just go on as many trips as I can now. when I am not on my boat."