Viewing Post for: Nicaragua Volunteer Adventure 2012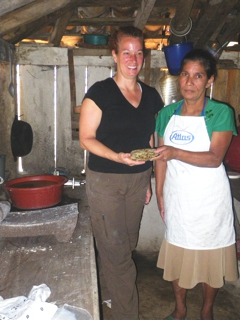 Date: January 29th, 2012
Location: El Sauce and Ocotal
How do you describe what it is like to be with 40 locals atop a Mountain around a fire, under thousands of stars, with a local band playing, singing and laughing? Then you head out into the night to end up in a local home of swept dirt floor, a single light bulb and the smoky smell of the dying fire in the kitchen? The day was filled with the friendly local people teaching us how to make pine needle baskets and to rolling tortillas. The best part is sharing the smiles and laughter whether we spoke the same language or not.
---
Messages for this post
For: Lisa
Hola mi hermana en el sol! You are looking well and the building sounds like it is coming along. We hope this week is the best ever with many coritos y bendiciones para todos (y nicaraguenses,tambien!) Muchos abrazos cariñoso, Nancy & Ron
---
Nancy - 1/30/2012
For: Erik
Type your message here... We are following your adventure and waiting for the posting every day Sounds like you had an incredible time in the mountain.
---
mom and dad - 1/29/2012
For: Lisa
So nice to see you. You look like you got a little sun. Glad things are going well. Sounds like the people are amazing. Love Mark
---
Mark - 1/29/2012
For: Rick
Really good description. Isn't the music great?
---
Sally - 1/29/2012
No more comments are allowed at this time.