Viewing Post for: Nicaragua Volunteer Adventure 2012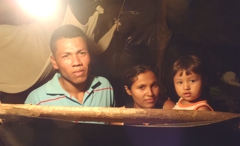 Date: January 25th, 2012
Location: El Sauce
The picture you see with the light bulb is Marco's family last night. Today we started by tearing down his stick and plastic house. It took 15 minutes. Then we started digging the holes for the post for the corners. We worked along side Marcos and 2 masons. They speak no english so working alongside is interesting. We joke, learn each others languages, and sweat. Then the gringos sit in the shade to recover from the work. We drank over a gallon of water each today. That gives you an idea how hard and hot the work is. As we were building the pig went nuts squealing as he was tackled for his shots, the chickens and rooster ran through the lot, the wife and two small kids came to watch and the fogger came through in a cloud of pesticide to eliminate the insects. The people here are very polite, gentle and friendly. Watch each day was we show our progress.
---
Messages for this post
For: Erik Crapella and friends
Erik's aunt is so proud of all of you. This memory will last for the rest of your lives. The work you do is a blessing. Tell Erik we know that he is happy working for the welfare of others and it is what he was meant to do. Love you, Erik. Aunt Ann Marie
---
Aunt Ann Marie - 1/26/2012
No more comments are allowed at this time.