Viewing Post for: Nicaragua Volunteer Adventure 2012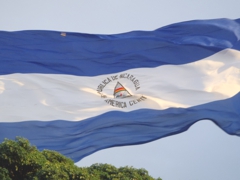 Date: January 24th, 2012
Location: Managua, Nicaragua
Hello everybody!

The start of another amazing adventure. All are safe and well. The flight here went very smooth. We toured Nicaragua in the afternoon. The visit to the torture area under the old palace was startling. It is hard to imagine what happens so close to our borders and our country supported. The city is very green and the old palace which is now destroyed looks over the lake and volcanoes in the background.

We were joined last night by Yaqarelli who helped start this project we are on along with Kellan, and a number of others. Sally and Bonnie from the states have been down here 3 weeks and just returned last night from Honduras by bus. They are flying home today. They had a great deal of enthusiasm for their experiences. Yaqarelli and Kellan will be bringing english students from here to visit the US in Feb. Around the 21st they will be doing a show in Honeoye Falls, we will post more about this on the PPS facebook site. Be sure to like or comment on there so you get that information when it is posted. Some of the students are asking if they will need a long sleeve shirt. They have no concept how cold it is going to be.

We are off to drive via Leon to El Sauce today.
---
Messages for this post
For: Rick , & Everyone ! 255 chars)
Type your message here... Ola , Hope you all are down & dirty shoveling dirt, sand, carrying bricks , & smiling a whole lot of the time !! Give all the masons & helpers hugs from me & all the other Volunteers. Gracias for coming to meet the Families > Love you's Bonnie
---
Bonnie Y (maximum 255 chars) - 1/26/2012
For: Lisa
It's great being able to read the messages to you and your friends but can you reply and, if so, where do we find your messages? Hope all is going well. Love, Mom
---
Mom) - 1/26/2012
For: rick
Hammer a few nails for me..
---
Daddeo - 1/26/2012
For: Rick, et al,
Bob picked Bonnie and me up right on schedule, late last night at ROC airport. We had to run through the Atlanta airport to catch our flight, after arriving early and sitting on the tarmac for 45 minutes. Have a great time, and tell us how it's going.
---
Sally - 1/25/2012
For: Erik
Hi again Erik. We are just so anxious to hear about your first day building. How was the trip to El Sauce ? Wonder whether it is humid or just hot? We hope that you are having a great time and got a chance to practice your Spanish. Can't wait to see pictures!! Make sure you take some. So proud of you Love Mom and Dad
---
Mom and Dad - 1/25/2012
For: Lisa
Good to know you are there safe, always so impressed by your accomplishments.
---
Patti - 1/25/2012
For: Linda
Hope your trip went well. How is the house building going? We miss you very much, but hope your having a great experience. Schedules and plans change daily here. xoxox Lee,Tali,Mira
---
Lee,Tali,Mira - 1/25/2012
For: Erik
Hi Erik! We heard about you trip and are so excited for you. Hope you have a great time and will follow your adventures over the next couple of weeks.
---
Marilyn & Charlie - 1/25/2012
For: Lisa
Hey mom! Hope your having an amazing time so far. I had a dream the other night that the earth and all the other planets were knocked off track and free floating through the cosmos and all I was thinking was "oh...I hope this didn't disrupt mom's plane flight to Nicaragua" haha...but I digress, I'm so proud of you and everyone else there for what you are doing, you're an inspiration to us all. Love you to the moon and back, Mel
---
Mel - 1/25/2012
For: Lisa
Hi Hon, I sent a message yesterday but it wasn't on the message posting so don't know if you received it. We're so glad your flight was uneventful and that you arrived safe and sound. What is Managua like? Love you, Mom
---
Mom - 1/25/2012
For: To ERIK
Hi Erik So glad to hear that you arrived and the flights were good. We are still recovering from taking you to the airport 3:30 AM !! But it was totally worth it. We are sitting here having dinner talking about this posting. Enjoy!!!! Any bugs there ? Love you MOM and DAD and MORMOR
---
MOM and DAD - 1/24/2012
For: Erik
Hey little brother! Hope that you had pleasant flights, I know that you must be relieved and happy to finally be there. We are thinking about you and can't wait to hear about all of your experiences and adventures. Your nephew's ears perked up when I read that you visited an old palace with a torture chamber. You can bet he will be googling the history of Nicaragua tonight. Be well! Love, Bianca
---
Bianca - 1/24/2012
For: LISA
You are a role model for your Mellie and we are so proud of your many accomplishments
---
Dick - 1/24/2012
For: Lisa
Hey Lisa, thinking of you and Mel; knowing that you will be blessed with your experience and that you will both be a great blessing to those you meet! Love, Ron
---
Ron - 1/24/2012
For: Lisa
Hi hope everyone is well and the flights were fast and easy. Good luck
---
Mark - 1/24/2012
No more comments are allowed at this time.