Viewing Post for: In the Footsteps of Buddha 2011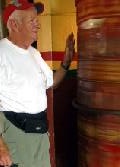 Date: September 16
Location: Lhasa Tibet
We are in Lhasa after flying over the Himalaya Mountains. It is a bit cloudy so hard to tell which one was Everest. This part of Tibet has seen growth at an amazing rate. Even though the scent of morning incense offerings are in the are at the temple we came in on a 4 lane road. The old Tibetan quarter is swallowed up by glitzy streets of identical buildings with bright cheesy red banners. The bank was gigantic with modern machines announcing when it was your turn to change money. There is a heavy army presence on the square in front of the temple. Above the ultra modern boulevard the ancient Potala Palace rises. It is a place of the most beautiful blue sky and clear puffy clouds. It's core is rooted in mystery surrounded by shocking and rapid growth. It is hard to get your mind around.
---
Messages for this post
For: kate ken
from the info in the post it appears that the time warp that you may have previously experienced visiting a foreign land has shrunk due to the modern innovations in this land. It is a bit sad. I like to think that we can go back in time in parts of the world, but the world itself becomes smaller and smaller with all of the technology. It can be a great blessing to the inhabitans and I hope that this is so for Tibet. xoxoxo
---
paula - 9/17/2011
For: ToJoanna
Hi Jo, Now that I've connected up with you we are loving reading all about your trip, we are off to S France today by rail, all a bit tame compared to you!We will get the last rays of sun before lighting our fire and sorting the garden. Hope you have kept well and not too many toe nails have fallen off, as happened to me when I did the London to Brighton walk all those years ago!! Thinking of you Love Janet and Graham
---
FromJanet and Graham - 9/17/2011
For: Joanna
Looked up some photos of the Palace, WOW! I can't wait to see your pics and hear your thoughts about it...And the mountains...sigh...certainly a trip of a lifetime. Sending love to you and all!
---
Dawn and the Boys - 9/16/2011
No more comments are allowed at this time.