Viewing Post for: 2011 Kilimanjaro Climb for Cancer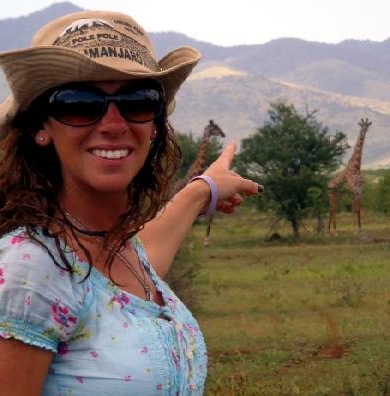 Date: March 2, 2011
Location: Lake Manyara National Park
STOP! The cry went out to those in the safari jeep. Angela won immunity as she was the first to spot an animal. Giraffes, zebra and ostriches were in the bushes at the side of the road.

In the park we have to stay in the vehicle so we do not get eaten by lions, but here we could get out. In the park we stick our heads out of the roof as look for lions, elephants, hyena, wildebeast, baboon.... People can not believe all the animals...

It was hard to leave 5 of our people and begin to separate our close group. There were a few tears and others held them back as we continue our journey.
---
Messages for this post
For: tj & angela
it all sounds so great, enjoy...there had better be great photos. by the way you both smell alot better after your showers..........
---
aunt val - 3/3/2011
For: Lise
Hope you're having fun and taking lots of pics of all the animals, you deserve this R&R. 'Can't wait to talk to you and hear about all your adventures. Lots of love!!
---
Marilyn & Charlie - 3/3/2011
For: Angela & TJ
Good morning here)/Afternoon(there)-As ur 2nd day of Safari comes 2 a close I hope ur all having a wonderful time.I can't wait 4 u 2 come home & tell us all about it, & show all your pictures!(Angela I've been wondering how ur new camera is working out-u should b getting some awesome pictures!)Have fun on ur final day-I no it will b hard 2 leave, but we can't wait 2cu on Saturday. B safe..with all my love, Mom/Aunt Sheryl
---
Mom/Aunt Sheryl - 3/3/2011
For: TJ and Angela
Good morning world travelers! I hope you had another great safari day, and have seen some awesome sites and animals. TJ, are you seeing some "Garanimals"? I wonder what your favorite memories will be frome this trip. We continue to brag to anyone who will listen about our incredible children and what they have accomplished. We are waiting to celebrate your homecoming.Be safe, be happy, love mom
---
mom/AS - 3/3/2011
For: Myra
Hi Myra! So proud of you! I can't wait to hear about your whole life adventure! Love, luck and lollypops!
---
Ermin - 3/3/2011
For: Valerie
OK, so now I ma getting jealous! This is where I would have loved to join you! OK, take lots of pictures for me! Enjoy this amazing trip!
---
Zoya - 3/3/2011
For: Kevin
Congratulations To all of you on the climb. Kevin can't wait to hear about it over a couple of beers. Enjoy the rest of your trip and hope that everyone has a save trip home. Thanks for letting your friends be with you and live just a pinpoint of your such an amazing journey.
---
carl - 3/3/2011
For: To Aunt Sissy
Whooooo Hoooooo!Finally a pic of Aunt Sissy!! Lions and tigers, and meerkats, OH MY! I'm so glad that you found the first animal on my scavenger hunt! Just keep you eyes open for monkeys, elephants, hippos, snakes (EWWWWWW!)and bears... oh wait...wrong continent!! Take lots of pics and watch out where your step...those animals do not know how to use a potty!! KISSES and HUGS!!! LOVE...THE REAL OLIVIA
---
From The Real Olivia - 3/2/2011
For: dad/kevin
hey dad! have fun :) take lots of pics!.
---
cathy - 3/2/2011
For: Kevin
CONGRATULATIONS!!!! Knew you could do it. :) Listen to Barb, the ostriches will run faster than you and Maegh put together...hehehe. Everyone says hello and can't wait to hear about the big adventure. We are all so proud of you. Samantha said you better have good stories and lots of pictures.
---
Jen - 3/2/2011
For: Angela & TJ
OMG! We got to see u both, Ang - U look so beautiful!! I bet u guys are just loving this...enjoy the last couple of days, stay safe, love u both so much! (i can't say that enough, i know u've heard it a lot. lol)
---
Moo - 3/2/2011
For: Angela
Angela, earrings on a safari....really?
---
Mom - 3/2/2011
For: janie
I hope you are relaxing and enjoying the beauty around you. I wish I was there with you but also look forward to your return - I can feel that you have been through a lot and as a result it feels like you have been away too long. xxoo
---
Mary - 3/2/2011
For: TJ and Angela
WOW TJ-I was so happy to see your picture yesterday,but today's phone call put me over the moon.You sound great-happy,healthy and tired.I am counting the seconds until I hear your voice in person.Angela-you look GREAT! only you could look like a cover girl while on a safari! Keep enjoying your time there while you can, b/c I don't think we will let you go again,we missed you too much!Love mom/AS
---
mom/AS - 3/2/2011
For: kevin
Wow--you did it-congratulations. What a wonderful opportunity for you. Enjoy the safari-bring home pictures. Safe trip home. Can't wait to hear the stories.
---
Jolee - 3/2/2011
For: Angela and T.J.
How great to see pictures af both of you. You both look so great! I envy you where you are now but not during the climb. You two are the new "dynamic duo". See you soon. Be safe and have fun. Love you!
---
Grandma Bree - 3/2/2011
For: TJ & Angela
The first thing I thought when I saw that picture is how amazing it will be for the 'Kilimanjaro' table at the Tinker Ball! Have fun you guys! You have earned it!
---
Kristen - 3/2/2011
For: Aunt Sissy
You look so pretty next to those giraffes!! You should feed them, they don't bite! Me and grandma bree feed them at the zoo all the time! Find some elephants and monkeys like curious george. Take pictures to show me when you come home! Have fun! lalalala bye!!!
---
Olivia - 3/2/2011
For: Angela & TJ
Way to go, so glad you had a successful climb. Pictures look great. Looks like your having a wonderful time. What a great experience.
---
Mark at Delacy Ford - 3/2/2011
For: Angela
PS What a great picture to use for "where in the world do you BELIEVE"...South Africa on a safari!!!!
---
Kerri - 3/2/2011
For: Kevin, my husband
Watch out for those ostriches-they can run faster then you!:) Love
---
Barb, your wife - 3/2/2011
For: Angela & TJ
Finally...a picture to prove that Ang is still doing well and in one piece...and most importantly, showered!!! And what's this I hear that Lindsey got a phone call and we didn't? Either way I hope you guys are having a great time on the safari! Hurry home so you can watch the season finale of the bachelor (taking place in S. Africa!!!) See you guys soon! Have fun and take lots of pics!!! Love you!!!
---
Kerri - 3/2/2011
For: TJ & Angela
TJ you have no idea how wonderful it was to talk to you!! Miss you a ton & love you so much. Just wanted to say thank you so much for the call and ANG you look B-E-A-utiful!!!! Seriously can't wait til your home!!!! lots of love! XOXO see you soon!! Linds
---
Linds - 3/2/2011
For: Angela & TJ
Angela - Lions & tigers & bears oh my! lions, & tigers, & bears oh my! please be careful -- your nose looks good now, don't let something bite it!! ha ha ha!! You look soo good, I have been waiting a week to see you. Can't wait til you 2 are home & you can tell us all about this incredible journey! PLEASE stay safe --Love you so much, Mom
---
Mom/Aunt Sheryl - 3/2/2011
For: Angela & TJ
My Angela & TJ...Sweetie, you look great! Hope you both are having a blast and taking lots of pics. Can't wait to see you both, stay safe, see you soon! All my love...
---
Aunt Deee - 3/2/2011
No more comments are allowed at this time.