Viewing Post for: 2011 Kilimanjaro Climb for Cancer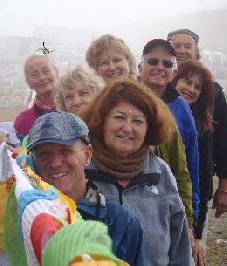 Date: February 26, 2011
Location: Karanga camp, 12,900
Hello all. Lise sends her love to her family. Susan says to please give her dog a big loving hug.

Today we had thunder crackling as we arrived in camp. We continued our good luck and it passed by. Kevin was surprised at camp with a birthday cake carried 8,000 feet uphill today.

To all you mom's worrying you have not seen your children's names in here, all are very well. Jane had a long day But all others are adjusted to the altitude now, at least here.

Now most of our thoughts are on getting to our high camp tomorrow. We arrived in camp 3:00-4:00 and everyone is in tents resting.

Baranco wall did not disappoint. All 4 appendages were required to climb the steep rocks. Depending on who you were it was either a highlight or high very high light. Ask your climber how it was.

Shouting out to my daughters and Steve and Sebastian- This is the most difficult thing that I've physically ever done''' But as I cling to the rocks looking for my next foot hold with the giant mountain staring down and taunting me- I think of you guys and how my love for you all is WAY bigger than Mt Kilimanjaro. LOVE FROM MAMA HANSFORD.

Lise/mom sends her love to all of you. All is awesome.
---
Messages for this post
For: Mama Hansford
Great to hear that you are hanging in there! We all say hi and send our love to you as well! And I know that Bruiser can't wait for you to get home!!! xoxo
---
Elaine - 2/28/2011
For: Kevin
WOW!!!! How awesome to celebrate a birthday way up high like LUCY IN THE SKY, you are one terrifc soul.and the world is a better place with you in it. To the rest of the climbers Best of luck stay safe and warm YOU ALL GO!!!!!!
---
Olga & Sharon - 2/27/2011
For: Myra
Hey Myra...sorry you're still not feeling well. I told you it's not that easy to be tall. You have to get used to the altitude difference. You'll settle into it soon enough. Jo and I were at the Hustle up the Hancock today. She was one of my volunteers. She was talking up a very tall, dark, and handsome fireman, but when she started to show off her anti-microbial undies he ran away. You're going to have to talk to her about those undies when you get back. Not for everyday wear. :-) All
---
Emily - 2/27/2011
For: Susan
What a fantastic adventure you are taking and for such a great cause! We are very proud of you Susan. Enjoy the wonderful and amazing sights you are seeing. Our love, thoughts, and all special wishes are with you and with your family back home too. Take good care and we will look forward to hearing more about your adventure after you return.
---
Betty and Bill - 2/27/2011
For: Lise
Just heard your audio post at Cheryl's house (good thing she did not go). You sound terrific. Keep up the good work! I also look forward to seeing the pictures and hearing the stories. You truly are AMAZING!
---
Dee - 2/27/2011
For: valerie
hope your doing good up there! its pretty annoying how they don't say anything about you....i saw the pictures! (: is it your last day today? if it is then you almost made it! be prepared for more snow in rochester. see you in a week!
---
tanya - 2/27/2011
For: Everyone
Each step you take inspires someone fighting cancer to go on. Just one step one step more remembering those who we are climbing for. You can do it.
---
Cancer's Worst Nightmare - 2/27/2011
For: Angela
Hey Ang! Good to see that everyone is doing great on the climb...Still reading these posts daily along with what people have written to you...Boy are you loved thats for sure..We all cant wait to see you and your so close to the finish line that must feel AWESOME!! P.S everytime that audio comes up I'm like YESSSS angela's voice!! You out of all people havent talked yet!! Well Im looking forward to hearing your voice in the next couple days!! Love you!
---
Dutch Master Flex - 2/27/2011
For: TJ and Angela
"You can't predict the future and you never know when your life's plans are suddenly going to change.Learn to appreciate what you have and take advantage of the opportunities that are presented to you.Appreciate yourself and the wonderful qualities you possess,as well as the qualities of others.Stay true to yourself and always BELIEVE that anything is possible.I love you, Jacquie
---
Love, Jacquie - 2/27/2011
For: All JOI 2011
Hello All, Can't believe it's been 2 Years since our Kili trek: know that SPIRIT STILL feels like I'm there, BUT that I envy fact that You ALL are there in Body as well as spirit!Safe Journey to all: ENJOY! keith d ;-) JOI '09
---
Keith Davidson (American Cancer Society) - 2/27/2011
For: Ernani and Noel
HI Ernani and Noel!! Way to go!! And only a little bit further to the top! I am so excited for you guys and amazed by all you have achieved. Stay strong and safe, I know you guys can do it! Love, Shireen :o)
---
Shireen - 2/27/2011
For: TJ, Angela, & All
Now on the light side and hopefully bring a smile. Remember to stop before you get to the summit sign to go. You don't want to be dancing around at the top for pictures because you have to pee. Dancing at the top for all other reasons is exceptable and encouraged. If you have to choose to sit it out or dance, choose dance. TJ and Angela I know u have the moves :)
---
dad/U. Torey - 2/27/2011
For: Lise
Even though not posting every day, still thinking of and praying for all of you. You sound awesome. Like I always tell you, I aspire to be like you in soooooooo many ways. Cannot wait to hear the stories and see the pictures. Luv
---
Cheryl - 2/27/2011
For: Myra
I hope your feeling much better and I'm hoping you have made it thru the worst possible physical and mental exhaustion. Dig deep and know that we are cheering for you. Remember that pain is temporary but quitting last forever... (that's what Lance Armastrong says but what the hell does he know right? LOL :)) Once you get to the top, there will be nothing you can't conquer. GO SOUL SISTA!!!!
---
Lengy - 2/27/2011
For: Lise
Following you every step of the way. You are so inspirational, so impressive. What an adventure!! I look forward to hearing all the details. Have a great rest of the trip.
---
Sue Center - 2/27/2011
For: TJ, Angela, & All
Had to post one more time since you all will b starting out early to summit n hopefully read all the posts soon, prior to going up. Please remember that there is NO GREATER POWER THAN TO TRULY BELIEVE. Each of us can accomplish incrediable feats and do incrediable things if we believe we can. Find your belief tonight and hold it tight. If it slips away for a moment in time, get it back again or again. BELIEVE YOU CAN - see it in your mind & feel it in your sole.I know TJ its rather deep :) W
---
Dad/U. Torey - 2/27/2011
For: Myra
Myra, I am so proud of you! Keep hanging in there through every challenge that comes your way, it will be worth it when you make it to the top. Thinking of you and all of the hikers every day. You guys are awesome!!
---
Terri - 2/27/2011
For: TJ and Angela
It's Sunday morning here and the sun is out. You all are finishing your last day before the summit. I hope today went well for everyone & are resting at Barafu Hut. I'm sure the hut is no Mariott but the company your keeping and the views are second to none. Hope the sun is shining down on you, soak it in to get thru tonight. Get rest you must be soooo excited about tomorrow. I hear beer is available tomorrow at Mweka Hut - a party, Jax would be all over a party. My love to you all!!!
---
Dad/U. Torey - 2/27/2011
For: Lise
So great to hear your voice, you sounded really good. The views must be amazing. We'll be thinking of you tomorrow as you summit. All our good vibes and prayers go with you. Get ready for a special dinner with lots of good wine when you get home. Take lots of pics, we're so proud of you!!
---
Marilyn & Charlie - 2/27/2011
For: All the miracle makers on the mountain
Even though most of my posts are for TJ and Angela, I need you to know how grateful I am to all of you for what you are accomplishing.I don't know you but I do.You are an amazing group of unselfish,determined,strong and courageous people who are changing the world.As you reach your goal,and the top of the world, look around you and know that the world below will be a better place because of you.Thank you with all my heart.Love,mom/AS
---
TJ's mom/Angela's aunt - 2/27/2011
For: TJ and Angela
(sorry)incredible."All of our hopes and dreams are within reach if only we BELIEVE". I BELIEVE your journey is our HOPE for the future and Jacquie's DREAM come true.Love,mom/AS P.S.TJ, I love you thisssssssssssss much!
---
mom/AS - 2/27/2011
For: TJ and Angela
I wanted you two to know that I had a visit from an Angel last night.Jacquie was in my dreams,very briefly, but she was with me.I know she came to let me know you are all doing great and to try not to worry.She hasn't visited me in a long time,so I BELIEVE that was her mission.I also BELIEVE she is waiting to show you Heaven from the top of the world.Be strong,safe and courageous-you have the most special Angel in Heaven walking with you.My love to all who are conquering cancer,you are all so in
---
Mom/AS - 2/27/2011
For: Angela & TJ
(CRAP-they really need to do something about this!!) With love and many, many prayers. Mom/Aunt Sheryl
---
Mom/Aunt Sheryl - 2/27/2011
For: Angela & TJ
Hey..just checking up on my 2 favorite climbers!ALMOST THERE! We r so sure you'll b standing at the top,that there has been some discussion among the family of getting a vacation place on the Swiss Alps! U 2 will lead the climb,of course! I no it's getting more difficult,I wish I could walk 4u,help keep u warm,or breath 4u,but I can't..so call on you Angel 2 help & no that I'm sending all my love and strength 2u and the entire group. I KNOW that u will all b standing on the summit 2gether. W
---
Mom/Aunt Sheryl - 2/27/2011
For: Valerie
YOU are quoted in today's Democrat & Chronicle in the article on winter mountaineering. We're saving our copy for you.
---
S and C - 2/27/2011
For: Myra
Hey Myra! Hope you're feeling better and back to enjoying every minute of your fabulous journey. I did a three hour hike in Hong Kong today. It was super easy :) but enjoyable. Then I went for a 1-hour foot massage! I'd give you one if I were there!! I thought of you and your fellow hikers and the tremendous reward for your effort! Sending you all my love and good energy!! Take care of yourself.
---
Tiffany - 2/27/2011
For: the person writing the posts
I hate to be selfish, and I know you said if names aren't mentioned that means they're doing well...but can you please personally let us know how TJ and Angela are doing? I get asked all the time, by so many people, and my response is always "I assume they're doing well because I haven't heard otherwise..." Can I be a huge pain and request some extra detail on those 2 climbers? They're really special to a lot of people back home. Thanks!
---
Kerri - 2/27/2011
For: Angela and TJ
(cont)... tell Jax how much we all love her & miss her dearly! Love u both! Hope ur staying warm, safe, and enjoying every moment of this! It'll be worth all the hard work when ur that close to heaven!!! Love u both so much! I believe in u!!! xoxoxo
---
Kerri - 2/27/2011
For: Angela and TJ
Hey guys! I just got home from work(sat night) & it was Wendy Kirsh...something's...surprise party. EVERYONE was asking how u guys are doing! Paul, wendy's husband, kept wanting to text u (Ang) & tell u that we're all thinking of u. He was so drunk he didn't understand that u don't have ur cell phone on u right now. Anyhow, ur all getting lots of support back home...everyone anxiously awaiting for u to make it to the top. When u do, take LOTS of pics & tell Jax how much we all love h
---
Kerri - 2/27/2011
For: Papi (Gabe)
Sounds like all is well and the group is doing great on the tough climb. Hang in there and keep going. Hope you are feeling well and enjoying yourself! Love you.
---
Jenni - 2/27/2011
For: Kevin, Valerie and the rest of the team
You guys are doing great. You only have Barafu and then the summit which will be a long day but you can do it just as we did. Stay focused on your purpose and you make it. We're all rooting for you.
---
Carroll - Kili '08 - 2/27/2011
For: Jane
Great to see your picture you look great. Keep on going one step at a time and soon you will reach your destination.stay safe..
---
Fran - 2/27/2011
For: Lise
Your doing great mom! It was really cool to hear your voice, good luck to you and your group on your journey and I'll see you soon!
---
Erik - 2/27/2011
For: TJ and Angela
Another day comes to a close here,and I will finsish this ones like all the others since you left-praying that you are safe,warm,have full bellies and knowing how much you are loved and missed.There are millions of stars in the sky and you are so close to reaching them all. Remember, "Sometimes success is just a matter of hanging on" M.W. You WILL succeed and we do BELIEVE in you.Stay safe, enjoy the veiw,and reach for the stars. Love, mom/AS
---
mom/AS - 2/27/2011
For: valerie gyrl
you needed all 4 what to make it up the climb? i picture y'all with crampons on each foot and pick-axes in each hand... unbelievable. you are my rock star right about now. and i agree with zoya -- please have them say a few words about you so we can be certain you are in happy spirits!! thunder at camp today - how wonderful and romantic... love, always,
---
amber - 2/27/2011
For: JANE
Com'on - you can do it
---
SUE - 2/26/2011
For: Lise
After five days of constant suspense we were overjoyed to hear your voice. we were excited to hear what's happening on Kilimanjaro!
---
garret - 2/26/2011
For: Kevin
Mount Kili on your Birthday!!! how will you ever top that!!?? Glad to hear all is well! Enjoy the rest of your trip :O)
---
Crystal - 2/26/2011
For: TJ & Ang
Hey guys!! I miss you so much!! Keep going, we believe in you!!!! I have my banquet tonight and we are celebrating my birthday after... Wish you were here but you are doing much more amazing things !! Thinking of you all the time and counting down the days til your home.... Lots of love & extra hugs and kisses for TJ love, linds
---
Linds - 2/26/2011
For: To Ang and TJ
HI guys!! Keep going your doing GREAT! Love to hear the updates!!! Love you!
---
From Danielle - 2/26/2011
For: Ninang Myra
Go Ninang GO!....hang in there, we know you can do it. You have overcome much tougher obstacles. We Love you very much and thinking of you every day! Good Luck!
---
Liam & Aiden - 2/26/2011
For: ivan and myra
Ivan - we see you are showing your true brown colors - we hear you left Myra in your dust. Nice Ivan. Nice. Hey, Nugget - we are wondering if your brown skin-tight patagonia shirt has ripped yet from all your strenuous actividades. Myra - we truly give you props for stranding yourself on a remote mountain with Ivan. We know your "altitude sickness" was really "Sison Avoidence Strategery". Hang in there girlie - you're almost there. When you get back Rizzo and I want to take
---
vlahos and rizzo - 2/26/2011
For: Valerie
Wrestled my laptop back from the hubby. My message got cut. Just wanted to say that there is so much to talk about! Patrick got his first tooth. He is adorable. Come back safe. Hugs!
---
Zoya - 2/26/2011
For: Kevin
Old "Abe" and I say happy belated birthday!!!! the "Green Flash"
---
Maeghan - 2/26/2011
For: Valerie
I am having a brain fart here, but I just wanted to wish you happy climbing. Zoya is never able to grasp how difficult your climb is, so she keeps bugging me with her measly bronchitis. I am looking forward to going to Half Dome with you in the summer. Wishing you well. Stay safe.
---
Rostik - 2/26/2011
For: Valerie
Missy! I miss couple of days and you are already on top of the world! Well, almost, and, well, the mountain, but close enough. I am very scared for you and I hope everything is good. Since I don't hear anything about you since your baggage got lost, everything is good with you. Rostik was asking me how you are doing. I am wondering how he thinks I should know that. We are thinking of you here is CA, where we got a first snow at the sea level (read San Francisco) in 35 years. So much to talk abou
---
Zoya - 2/26/2011
For: Lise
Lise, I just got a call from Raela, who says that she's having trouble with posting to this site (she's tried several times and it's not working for her), but that she wants you to know that you are astounding, and that you are on an amazing journey, and that she is walking every step with you. By the way, we all agree with her. ;) --Chris
---
Chris - 2/26/2011
For: Kon
Hi!!! I can't believe you're so close to the summit already! Stay strong, and above all HAVE FUN. I love you so much and I'm so excited to hear all your stories. Meg and Court send their love and support too.
---
Megan - 2/26/2011
For: Lise
Wow, 12900 very happy for you. Almost there. Hope summit day is perfectly clear. Pete
---
Pete - 2/26/2011
For: Ivan
Hanging on, you are almost there. We love and very proud of you son.
---
Mom & Dad & Addie - 2/26/2011
For: Valerie
Lera, you are almost there. You must be very excited. I wish you luck at this last milestone.
---
Natallia - 2/26/2011
For: To Lourdes
Funny when you come from Miami, where the highest structures in the sunset are condos, no mountains, that you are now upwards of 15,000 feet. Great going, enjoy the view and may it be a lifetime of memories!
---
From Iliana - 2/26/2011
For: Angela & TJ
I'm so very proud of u both. Words can't describe how truly amazing you both are & on this advaenture. Be safe, be careful, & i'll see you guys when you get home to party.
---
Dad/Uncle Jim - 2/26/2011
For: Angela, TJ (& everyone)
I posted a message yesterday but don't see it...hmmm? Anyway, i'm so proud of u all! Ur almost there. I can't thank u all enough for taking this incredible journey to make such a huge difference in this world. I love u all so much & my thoughts & prayers are with each & every one of u. U are all now a family! xoxo
---
Moo - 2/26/2011
For: Jane
So fantastic to see a photo of you, you look great! It looks like you have all the right layers on!! I hope you are snug as a bug in a rug when you get into your sleeping bag at night! Enjoy the stars, the night sky is so beautiful on Kili. Stay warm & keep pushing ahead one step at a time. Can"t say it enough, you are truly amazing! Sandy
---
Sandy - 2/26/2011
For: Myra
Pretty cool trip and blogsite! Myra, not many things leave you speechless I bet!? I hope you're having a thoroughly great time!
---
Rob - 2/26/2011
For: Ernani and Noel
Although we imagine the physical struggles of your journey are many, we are sure that the emotional triumph you feel will take you all the way to the top. Keep it up guys, you're almost there! Much love, support, and the ultimate respect to you both. Hugs.
---
Maryanne & Lori - 2/26/2011
For: Jane & Joan
WOW!!! Love the pic. Did you take it, Joan? Can't believe what you must be going thru, but I know you can do it! You both have great determination. What an experience. GOOD LUCK! And good luck to your whole group.
---
Judy & Gary - 2/26/2011
For: Angela & TJ
A pic in my office shows a lone man running on a long,long road up a mountain-it says: "SUCCESS-THE RACE DOES NOT ALWAYS GO TO THE SWIFT..BUT TO THOSE WHO KEEP ON RUNNING" Remember,1 foot in front of the other,slow & steady-u r almost there! Angels r with u every step 2 guide & help u see a glimps of Heaven. Loving u both so much.
---
Mom/ Aunt Sheryl - 2/26/2011
For: Lise (Mom)
You are almost there! We are all so proud of you, hearing your voice on the recording was emotional for all of us. Spoke with Mormor and she wants you to know that she is thinking of you everyday. She sounds really good and says that she is feeling much, much better. Hanne was out there and her pantry is stocked, so don't worry! Sasha is sleeping over tonight so I'm turning the clocks forward. Hey, it's worked before! Love you Mom!
---
Bianca - 2/26/2011
For: Angela & TJ
My Wonderful Kids...As you continue towards the top, know that we are all cheering you on. At night when you see the stars getting closer, look to the brightest one-that is Jacquie shinning for you and lighting your way. So many things I want to say, but you already know them. I love you both very much and am very proud of you. Reach high & feel us all there with you!
---
Aunt Deee - 2/26/2011
For: To? Angela and T.J.(maximum 255 chars)
Wow! Almost at the top! It must be so beautiful and unbelievable. What a great thing you all have accomplished. Stay strong and safe. Love you--Grandma Bree
---
From?Grandma Bree (maximum 255 chars) - 2/26/2011
For: Jane
I'm so happy to see your picture. You don't look like it has been so tough. Keep it up, you can do it! Love the hat, glad you didn't cut out the top. Sus xo
---
Susan - 2/26/2011
For: TJ and Ang continued
Didn't realize my message cut off... what I was going to say was, keep believing and keep walking and hopefully there will be a swiss guy up there with some cheese for you! Love you guys! Love, Sadie
---
sadie - 2/26/2011
For: Kon Continued
Have fun and keep going! I'll be thinking of you! Love, Sades
---
Sadie - 2/26/2011
For: Kon
Hi friend.I'm glad to see you are feeling well and as always entertaining everyone.I'm not sure if you will get to read more msgs before summit night so here is my summit tip for you.Remember that time Freshmen year when you guys came and dragged me from my dorm room in a snowstorm to play some midnight football?Well summit night is just like that...dark and snowy.The only difference is you'll be walking uphill instead of trying to tackle Chewy which in my opinion is way easier!Have fun and keep
---
Sadie - 2/26/2011
For: TJ and Angela
Wow... Day 6 already. Can you believe it? We were just in Bob Evans talking about it with Ang saying crazy things like "wait, I'm going to need sunscreen?" Now you are true blue mountain climbers and you've come so far! Base camp today and then onto summit... you can do it. Jax will be with you every step of the way. She was so strong and so brave because of you guys, her family. She will be sharing that strength with you the whole way. You can do it. Just keep believing and keep walki
---
Sadie - 2/26/2011
For: My husband, Kevin
Sounds like you had a great birthday! I can only think of one year that would trump this birthday & that would be your 30th...when daughter, Cathy came into this world on 2/23. Peace & love
---
your wife, B - 2/26/2011
For: Jane
We love the picture Jane!!!!!!!!!!!!!!! We know you can do this. We are checking up on you every day!
---
Sharon and Jeremy - 2/26/2011
For: To Anut Sissy
I love you Aunt Sissy! Keep climbing, I can't wait you come home!!!
---
From Olivia - 2/26/2011
For: Valerie
Hey, Valerie............the BIG DAY is coming up, yes? We picture you smiling and strong and thrilled to be out there. GOOD LUCK!
---
S and C - 2/26/2011
For: To Angela & TJ
Keep going, were all with you. Love, Papa. PS. Sorry TJ, looks like I'm the only ony that can't get your voice message
---
From Papa - 2/26/2011
For: Ernani and Noel
Hi! Wow - the audio posts are amazing to hear. Thanks so much for putting in so much detail so we can try to imagine at least a little of what you all are doing! Everyone here is sending their good wishes and their positivity to all of you... It sounds like this group can do anything together! Ernani, I love you more than you can imagine. Keep safe and have a ball. Noel, you keep safe too. We'll see you in less than a week! Lots of love and hugs, Sarah
---
Sarah - 2/26/2011
For: Foxie
We loved the picture Foxie!
---
Alexander and Sarah - 2/26/2011
For: Jane and Joan
Next stop Barafu and then the summit! You're doing great. Keep it up. We're thinking of you everyday and checking in to see how things are going regularly.
---
Bill BA Alexander and Sarah - 2/26/2011
For: Foxie (aka Jane)
YoU go girl! You are almost there and we know you can do it. Take the rest you need to store up for what's ahead! We love you and are sending you lots of love from NYC! XXOO ML, DAN, EM & AUGY!
---
Mary - 2/26/2011
For: Susan Hansford
Susan Hansford, Wow! Ham & I are impressed with your commitment & drive! We are so proud of you! Keep on pushin' Lots of Love, Gail & Ham
---
Gail & Ham Clark - 2/26/2011
For: Dad (Noel)
Hi daddy, I miss you VERY much. Today in religous class, we all prayed for you and Uncle Ernani. We had a sub today and he said that that's great that you're doing that. I'm looking at the pictures and you look like you're having a bunch of fun!:-D I can't wait to read more about your AMAZING adventures up there on the mountain. Have fun and stay safe!!!! :-)
---
Allison - 2/26/2011
For: TJ and Angela too
KEEP GOING, keep moving forward!!
---
Sara in Albuquerque - 2/26/2011
For: TJ and Angela
When you BELIEVE, you achieve.
---
mom/AS - 2/26/2011
For: Jane
Type your message here...You look great. Keep up the good work. We are all cheering for you. Lynn xoxo
---
Lynn - 2/26/2011
For: TJ & Angela
cont. One more day then to the top of the world and heavens touch. You all can do it !!!!
---
Dad/U. Torey - 2/26/2011
For: TJ & Angela
Awesome job thus far. So glad to hear of the days conquest. All is well here, don't worry. All product arrived & in trailor, syracuse nationals wants your company there in July, & weather still crappy here so the Bentley hasn't been out for a spin. Gym was selected as a business of yr from Bank of Akron. All is well. Miss you both. One of TJ's inspiration quotes for everyone :)"WHAT LIES BEHIND US AND WHAT LIES BEFORE US ARE TINY MATTERS COMPARED TO WHAT LIES WITHIN US" One mor
---
Dad/U. Torey - 2/26/2011
For: JANE
GREAT PICTURE, LOOKS LIKE YOU ARE ON YOUR WAY TO WEGMAN'S!! KEEP THE FAITH, WE KNOW YOU CAN DO IT
---
SUE - 2/26/2011
For: Kevin
Hey, just wondering if it's true that you have to adjust the oven's temperature for higher altitudes like it says on the cake boxes!(???) ha ha ha Hope you all enjoyed every bite!
---
Mom/Aunt Sheryl - 2/26/2011
For: dad/kevin
dad! so cool that you got a cake! ENJOY! goood luck!
---
cathy - 2/26/2011
For: Angela & TJ
SOOOO good to hear another voice from the mountain! PLEASE take care of yourselves as the next few days will be getting more difficult. Everyone here is fine and we await every message. The dogs are mad because I have my computer in bed next to me..they think I am crazy (no just another mountain stalker!) Love & much support to everyone.. WE BELIEVE!!!
---
Mom/Aunt Sheryl - 2/26/2011
No more comments are allowed at this time.