Viewing Post for: 2011 Kilimanjaro Climb for Cancer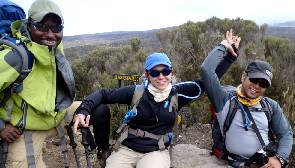 Date: February 24, 2011 - Audio Post
Location: Shira hut, 12,500
Here is an audio post from the gang. Download or listen:
---
Messages for this post
For: Susan
Susan, Trying to learn to follow the blog.... Think you made it - hopes and good thoughts! Thinking of you and bet you could use some Mexico sun in April! Hugs, Kim
---
Kim - 3/1/2011
For: Kevin
Cool stuff. Be safe and don't forget to come back.
---
Vadim - 2/25/2011
For: Angela!!!!
Ang!!! Your getting closer and closer....You seem to be doing awesome just like I knew you would! Just think when you get home Im thinking ummmm TULLYS CHICKEN WING DIP and A BIG DRAFT BEER!!! Love you! See you soon! Ps That was awesome hearing your voice TJ!!
---
Dutch Master Flex - 2/25/2011
For: Susan Hansford
We are all in our thoughts with you guys! Do what we have trained: Go to the end!Finish your goal - remember the marathon and the work out for it! Good luck!
---
Bernie coach and the gym - 2/25/2011
For: valerie gyrl
what was that i heard? happy hour at base camp today! gyrl, i know you will get into some trouble.... it seems your bags were delayed a bit in getting to you. i'll bet you smiled the whole way through. i love the updates and viewing on the map where y'all are. over 12000'now, eh? super! my highest was 14,400. you're amazing -- in so many ways! always,
---
amber - 2/25/2011
For: Ivan
We are all proud of you. Keep focus and reach the top. Reaching the top is the validation of your accomplishments. We all love you.
---
Dad & Mom and family - 2/25/2011
For: Angela and TJ
I just checked the website, again...cause I'm a stalker and waiting on more posts...and realized my message got cut off! Anyhow, Dakota has been at my place all day and is having a sleepover with Bella! Just wanted to you to not worry about her, she's doing great, and just focus on what you guys are doing! It's so amazing and I'm so happy for you both! Keep believing, just like we are, and enjoy every moment! Love you and miss you both! xoxo
---
Kerri - 2/25/2011
For: Susan Hansford
Go Susan!!!!!!!!!!!!!!!!!!!!!!!!!!! Climb on... Wishing you the best from Sunny and Warm Los Angeles ;)
---
Sebastian - 2/24/2011
For: tj & angela
a voice from africa...how neat is this!!! stay with it you two you are doing great..
---
aunt val - 2/24/2011
For: Angela and TJ
Hey guys! I'll say the same thing everyone else is saying...It was sooo good to hear your voice TJ! Hope your spirits are still high and you all have the strength needed to keep going! Everyone is so proud of you and all the other climbers! Everyone at the bar keeps asking me for updates...so you have A LOT of supporters back home sending you well wishes! Ang, hope your nose is getting better! I'll look into plastic surgeons if you need me to! FYI, Dakota Jean Marie Vallone (sometimes Sommer) is
---
Kerri - 2/24/2011
For: Jane and Joanie
Hi!!!!!!!!!!!!!! Just checking up on you!!!!!!! Hope you are all doing well. Love, Sharon and Jeremy
---
Sharon and Jeremy - 2/24/2011
For: Myra, Ivan and the gang
Keep it up! Sis - your stupid cat keeps biting me when I'm sleeping!! HERE'S TO YOU ALL: "Follow your dream. Take one step at a time and don't settle for less, Just continue to climb. Follow your dream. If you stumble, don't stop and lose sight of your goal Press to the top. For only on top can we see the whole view, Can we see what we've done and what we can do; Can we then have the vision to seek something new, Press on. Follow your dream." (by Amanda Bradley)
---
Gail (Myra's sister) - 2/24/2011
For: TJ
What an exciting adventure and for a great cause too. So glad to hear things are going well. Take in every sight, smell, and feeling as you will always remember something this awesome. I am sure this will be a life changing experience. I'm thinking of you and wishing you and Angela all the best. Barb :-)
---
Barb Schilling-Studer - 2/24/2011
For: Angela
I am so proud of you!!!I hope that you are enjoying every moment of this great experience. I love that we can go on here everyday and see how it is going. I am thinking about you everyday and know you have so much support. I am sure Jax is so proud of you. I LOVE YOU-Shannon
---
Shannon - 2/24/2011
For: TJ!!! & Ang
Awesome man!! You won't do it! LOL
---
Jeff - 2/24/2011
For: TJ & Angela!
It was so good to hear your voice TJ!!! I'm so glad things are going well! Keep taking it all in and BELIEVING that you can do it! Jax is with you the whole way I'm sure! Love you! Laur
---
Laur - 2/24/2011
For: Everyone
I am thinking of all of you!! Quite and adventure, isn't it?! Hang in there...not literally though when you do the Baraanco Wall :) Take in every moment.. Sharon Radak
---
Sharon Radak 09' - 2/24/2011
For: TJ, Angela and all the climbers
"Most people see what is, and never see what can be" Albert Einstein. All of you are giving those of us not with you, a chance to see more than what is in front of us. You are giving us the opportunity to see how courage, committment and determination can make a difference in our world. We thank you for showing us what can be. Love, mom/AS
---
mom/Aunt Sharon - 2/24/2011
For: Kili Cancer Climbers
Wahoo - glad to hear you had a nice easy hike today. Rest up cause soon you will be Taking the Tower and Rockin The Wall. Stay strong, you are going great --- my prayers are with you. Hi Rick!
---
Kili Karen 09 - 2/24/2011
For: Kevin
Hope all is going well...sounds like everyone having a good time. Watch your step, friend!
---
Donna - 2/24/2011
For: TJ & Ang
(ran out of room !!) I can't wait for you to be so close to her. You two CAN DO IT! Love you so much & MISS YOU!! XOXO Linds :)
---
Linds - 2/24/2011
For: TJ & Ang
Oh my goodness.. You have no idea how HAPPY I am to hear your wonderful voice! It made my day! And we did get your spot message your first day on the mountain (not sure if anyone mentioned it). Sleep well tonight in your mummy sleeping bag :) We are all cheering you two on and keep believing!!! I know you said tomorrow might be harder but you have a beautiful angel spreading tink dust before each and every step! I know Jax is cheering you on with the rest of us. I can't wait for you to be so clo
---
Linds - 2/24/2011
For: Angela & TJ
....cold beer & mighty taco.... mmmmmmmmmmmmmm. good to hear your voice, tj. glad you all are doing well. we miss & love u both so much! remember, "All you need is faith, trust & a little bit of pixie dust" - Peter Pan. WE BELIEVE !!!! xoxo
---
Moo - 2/24/2011
For: TJ & Angela
TJ- It was pretty awesome to hear your voice so clear from half way around the world and more than half way up the mt. :) Ang, hope your nose is feeling better. Rest up stay strong, you all r doing it. Saw Trason off last night, leaving for Africa today.Take one day at a time before you know it, it will be time to summit. Love you !
---
Dad/U Torey - 2/24/2011
For: Myra
It's great to read all the comments and know that you and everyone else is doing well.. I know it is going to get harder, but stay strong and remember why you're doing this! The adventure is great, but the cause is even greater!! Stay safe and looking forward to hearing all about your trip. bioMerieux is proud to have you on our team...
---
Lisette - 2/24/2011
For: TJ and Angela
TJ, you can't imagine how GREAT it was to hear your voice!! You sound healthy, safe, and happy. What a wonderful way to start my day!!!!! To all the group, rest up well for tomorrow, get psyched for what lies ahead. Know that you have so very many people behind you, cheering you on and thanking you for all that you are doing to rid our world of this horrible disease. Stay safe,have fun. love mom/AS
---
mom/AS - 2/24/2011
For: Angela & TJ
TJ SOOO GOOD TO HEAR YOUR VOICE!! -- take care of each other- it sounds like the coming days will be tougher. With all my love from home.
---
Mom/Aunt Sheryl - 2/24/2011
For: All the "11ers"
Keep up the good work. You guys are going to rock out the Lava Tower - a tough day but worth every moment. The payoff is the gorgeous view of the Barranco Wall (my personal favorite!). You are an amazing group with an amazing support group behind you. Enjoy the stars at night and the views during the day. Don't ask Rick any questions because he won't give you a real answer anyway. :) Yusuf is the man!!!
---
Paul Artruc - 2/24/2011
No more comments are allowed at this time.