Viewing Post for: Everest Base Camp #1 & #2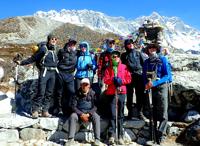 Date: Tuesday, November 6
Location: Denboche to Chuklung and back, up to 15,600
Great acclimatization hike up to 15,600. People did very well.
We headed up into the end of the valley which is a semicircle of mountain tops over 2 miles above us. Glaciers cascade down in tumbling masses of brilliant white. It is about as close to heaven I think as one can get. Add to that later in the day the swirling clouds and the line between heaven and earth blurs... We use the word " wow" over and over.
That got us back by 3 pm. So afternoon was spent drinking tea, taking a hot shower in an outdoor stall with air temps below freezing.
Starting to get cold now up here. And only going to get colder.
Tomorrow we enter the final valley on the way to Everest. High, cold and awesome are the words for tomorrow.
Stay tuned.
---
Messages for this post
For: Rick & All
You all got this!! You have come sooo far.I can't begin to tell you what an incredible trip and journey it was to reach Base Camp during the trek before yours. You are in the Very Best of hands and care with Rick and the wonderful guides and great sherpas. Stay strong, help each other, and from Kili "polepole" will get you to the top. Best wishes - Torey & TJ
---
Torey - 11/8/2018
For: Nancy Stock
Hi Mom! We're thinking about you. The blog posts sound great. So excited for all the adventures you're having! I just had a nice visit with Jon, Eileen and Jon Jon in CO. Was great to see them! Back in SC now. Karen Stock is coming to visit this weekend. Gonna be fun!
---
Nathan - 11/7/2018
For: Joe and the others
I am really impressed. Even by the smallest of pictures! I wish all the best for you and the group. Keep up the good spirits! X Eric
---
Eric - 11/6/2018
No more comments are allowed at this time.