Viewing Post for: Everest Base Camp #1 & #2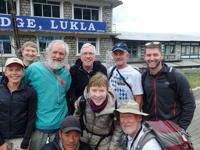 Date: Wednesday, October 10
Location: Monjo, on the hike to Namche
9300 feet. 4.5 hour hike from Lukla. Up at 4:30 am.
Most of us slept off and on. Cases of anxiety, excitement and jet lag. We also woke up with red streaks on our faces. Forgot we had a time, red dot placed in us as a blessing at restaurant last night.
Hustled to the domestic airport which is a dirty, people and gear filled place of anxious travelers jostling for position. No sense since we waited hours for the clouds to clear before we could take an amazing flight into Lukla. We could see lots of steep, steep mountains rising above thousands of feet of a deep deep valley. A huge circle and we landed just as the cliff at the end of the runway appeared at high speed in front of us.
It was immediately obvious we were not in Kansas. The street is only a stone sidewalk wide path between a row of stone and mud houses which are whitewashed. Lukla is a mix of frontier town with yaks loaded with goods. Porters carrying two bags each strapped together and supported by a tumpline pass us as we dodge the giant horns of the hair. Prayer flags brightly go up the hill sides, waterfalls sound in the background.
We hiked into the dark because of our delayed start. Quite the adventure!
We are on the trail to Everest
---
Messages for this post
For: Harry and all
You people are incredible!
---
Ray and Sandy - 10/11/2018
For: Marlene killian
C'est bien d'avoir de tes nouvelles, je suis si content de les avoir !Je vois que les conditions de vie sont différentes du chemin de Saint-Jacques... je m'en doutais un peu. Tu es très forte dans tout ce que tu entreprends physiquement et mentalement. Tu me manques Je t'embrasse très fort ! Love Jean-Claude
---
Jean-Claude - 10/11/2018
For: Torey and TJ
Sending lots of love and support! Stay strong and know that we are all cheering you on!
---
Miki, Kevin and Remy - 10/10/2018
For: Uncle Torey & TJ
& so the journey begins!!!! I'm thrilled & nervous for you both & a tad jealous I'm not there too...we love you both so much!! Hi, Rick. Take care all....stay safe, stay warm. xoxox
---
Moo Blake & Claire - 10/10/2018
For: Torey and TJ
So happy to hear you arrived safely! Thinking of you and holding you close in our hearts as you take this amazing journey. What on earth are you going to come up with once you complete this trek?!?!?! You guys rock! Stay safe, and have fun.
---
Jillian and Jennifer - 10/10/2018
For: Torey & TJ
I can't imagine what you are seeing - so amazing! We are back here cheering you on and anxiously await each update. Take care of yourselves. Love you so much! (Wait a minute, something is not quite right, it's October 10th, it's 5:30 pm, and it's 80 degrees outside in Buffalo New York!)
---
Aunt Deee - 10/10/2018
For: Bob
Thinking of you dad! What an adventure! Its 85 degrees here today and then will turn rainy and cold. Can't figure out how to draw pictures so cora is drawing them and ill keep them in a pile for you to view when you get home!
---
Camille - 10/10/2018
For: Harry & All
Life is like a box of chocolates. What an adventure.
---
Phil & Tara - 10/10/2018
For: TJ and Torey
TJ - your beard looks like you've been there for a month!!! Be safe and enjoy. I am very excited for you both.
---
Dave - 10/10/2018
For: TJ and Torey
Hello TJ and Torey!!So happy and relieved you arrived safely.As I am not a fan of planes,especially puddle jumpers,I admit to being a little anxious about your plane ride.But now that you are there,let the adventure begin!!So much of what you will see and experience will probably be unable to be described in words.Take lots of pictures to share with us when you get home:)Take good care of each other, and never forget that Jacquie is with you.We love you
---
Sharon - 10/10/2018
For: Harry
So glad you had a chance to experience a bit of the "local flavor" before your trek began. But I imagine you feel better to have actually started. You have done enough of this stuff to know how to pace yourself, make smart choices (drink, drink) and absorb the adventure. So excited to (vicariously) be on the journey with you!
---
Marianne - 10/10/2018
For: Torey and Tj
So proud of you!!! What a start to your amazing adventure! We are all at home following your trip and sending well wishes and love! Be strong, stay safe, and know we are all here cheering you along and getting started on the amazing drinks we have waiting for you when you arrive safely back home!! Cheers to you!!!!! Love Matt, Danielle, Olivia, and Molly
---
The cooks - 10/10/2018
For: Harry and all
Sounds like an exciting start to your trek! Safe travels! Take lots of photos and enjoy the tre k! Love Shannon
---
Shannon - 10/10/2018
No more comments are allowed at this time.