Viewing Post for: Inca Trail 2018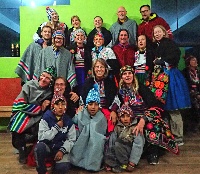 Date: Friday, August 3rd
Location: Puno, Lake Titikaka, Peru
Spray is coming over the bow as I write this. We are racing along at 5 mph across Lake Titikaka. We just left a beautiful sand beach but 52 degree water and us all wearing jackets enticed few to swim.
We finished lunch a short bit ago at what most were claiming was the best views of any restaurant they had been in. Our host dressed in colorful skirts or tight black vests for the men served us fresh trout and delicious quinoa soup.
We had taken the boat to this island of weavers from our overnight of Amanati Island. Each had different but delightful tales to tell of our overnight with our home families. Time playing with kids, helping in the kitchen or being dressed for the fiesta created bonds despite language differences.
This will be the last post. Tomorrow we stop an an ancient, mysterious site on the way to fly back to Lima. Dinner is at a pier over the Pacific, waves crashing on 2 sides. We will fit a city tour in before we board our overnight flights home to you.
Thanks for staying in touch with your loved ones. They have many stories to share with you. Stay tuned as PPS travels the Arctic, Galapgos, Everest Base Camp, Morrocco and many more places this coming year.
---
Messages for this post
For: Everyone
By the end of this expedition, you are all looking very ...PERUVIAN! Beautiful picture. Thanks for letting us share the adventure through scintillating posts, Rick. You are a writer on top of all the other talents! (Linda, bring me the list of everyone who ate one of those cute little cuyos.)
---
Marsha - 8/3/2018
No more comments are allowed at this time.