Viewing Post for: Inca Trail 2018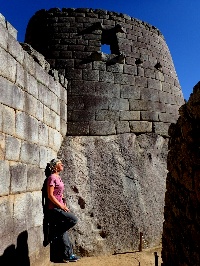 Date: Monday, July 30
Location: Back to Cisco
Up at 5 30. Ate breakfast on the top floor where we could watch the sun lighten up the jungle like sheer cliffs we were swallowed in. We caught an early bus to Machu Pichu. New rules limit the length of time of the visit to a few hours. During that time we immersed ourselves into another era. Both the times of the lives of the people who built this and the time of western exploration. Spectacular.
The afternoon was spent in shopping, massage, and pisco sours.
Then a world class train took us along a deep gorge to catch a bus back to Cuso. C
razy to think the first half of our trip is over. Sad. But we move onto our next adventures.
Stay tuned as we search for guinea pig tomorrow.
---
Messages for this post
For: Karejn
With you all the way...enjoy the rest of the trip hopefully in your own outfit.. Love from all of us
---
Mom dad with you all the way - 7/31/2018
For: Flo
Was your luggage ever found?
---
Lauren - 7/31/2018
For: Carlos, Sue, Morgan and Ray
So, who has been brave enough to try the cuy???
---
Noly - 7/31/2018
For: The AMAZING JOI TEAM
Life is Good. With unending gratitude and love! Thanks for who you are - and all you do. And, for carrying my father and friend JNFR with you. Peace!
---
Martha Welshofer - 7/31/2018
For: Everyone
I have enjoyed reading about your trip and seeing the pictures! So happy for all of you. Can't wait to see the rest! Love you all!
---
Courtney - 7/30/2018
For: Everyone
I couldn't wait to get home to check and see what you were all up to.....sounds really amazing.
---
Terri - 7/30/2018
For: Tom Stevens
Congratulations ! Enjoy the rest of your trip.... Love, Hrizaks &. Switzers
---
Sara, and Samantha - 7/30/2018
For: Carlos, Sue, Ray, & Morgan
We are beaming for you that you all had such a great hiking experience and got to revel in the beauty of Machu Pichu! Sending big hugs! Enjoy those well-deserved pisco sours. Love you! Kait & John
---
Kait & John - 7/30/2018
No more comments are allowed at this time.