Viewing Post for: Inca Trail 2018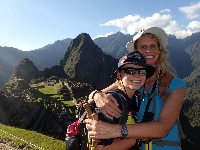 Date: Sunday, July 29
Location: standing in line, drinking beer, waiting for the bus at Machu Pichu
True, True. We have passed the sungate and entered Machu Pichu. Another great day. We arrive via the sungate and suddenly all of this wonderful ancient site is below us. So much magic.
It began before sunrise, climbing in the cold to a viewpoint of a glowing 21,000 foot Salkantay, rolling icy ridges into the Amazon basin. For a thousand, maybe two thousand years, people have been coming to this place to pray, to celebrate a timeliness and in awe a connection time and culture spans. It was different for us. In awe we drank coca tea and watched the sun hit the peaks, glow and then crest...
There is magic in sharing a journey with our Quechua friends, each other and this ancient place. It evolves over 4 days deep within us in a way we don't normally live.
And so we leave our new friends, continue to deepen our friendships with our fellow travelers.
We shower, eat, sleep and will rise. The trick is to integrate the magic of these 4 days.
---
Messages for this post
For: Nana J
He's off for his camping adventure & wanted to make sure you knew. Can't wait to hear all about yours. Hope it's everything you hoped for & more. Safe travels & much love!!
---
Jessica & Viktor - 7/30/2018
For: Linda
We are having fun following your adventure. What a glorious thing to see Machu Picchu at sunrise! Hope you are acclamating to the altitude and taking lots of pictures.
---
Marsha and Ken - 7/30/2018
For: Karen
It sounds like a wonderful journey. Mom and Dad are following these posts. Thanks to all who have shared your things with Karen. Enjoy. We love you and can't wait to hear all about the trip. Love Joanne
---
Joanne - 7/29/2018
No more comments are allowed at this time.