Viewing Post for: Women's Projects in Tanzania 2018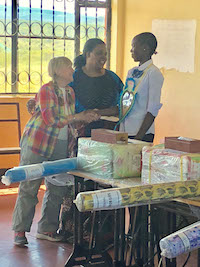 Date: Friday, May 25
Location: Lake Eyasi. Girls Vocational School
We were able to join the girls at the school this morning as part of their graduation. After 2 years the girls that take the vocational track graduate. Susan, a long time friend of Bayo and Lightness, donates a sewing machine to each girl. This way the girls go and start a business. The girls normally drop out of school after age 14. Often they are taken as a wife or become pregnant. A pregnant girl or a girl with a child can not attend school so is on a track usually for a continued cycle of poverty. This school is a private school entirely supported by donations that takes in the girls to give them the skills to break this cycle.

We are impressed as we spend time with the girls by how they are less self conscious then we are in the west. Yesterday we sat in a circle as each stood to practice their English. One girl stood and sang a beautiful song, embarrassed, acapello. As we spend time here, we are humbled in many ways.

Karen donated toward a sewing machine with $ she received in a donation, group members have also gone beyond by donating for the beds yesterday, fixing broken computers and trees we are planting. If anyone would like to donate toward the houses, medical clinic, please visit www.journeysofsolutions.org and you will see Lightness's project listed there.

Now we are off to have tea with Lightness's mom in town, a drink at a local establishment and sunset over the lake. Stayed tuned tomorrow as we return to the houses and buy trees to provide shade and shelter..
---
Messages for this post
For: Rick, Jaima, Yusuf and all of your team
I love to hear the things you are doing with our friends! I would love to be there right alongside you making new friends and nurturing old friendships. Pass along my good wishes to Teresia on her new home! Keep spreading sunshine!
---
Christine Lazarony - 5/26/2018
For: Meghan, Brian, Ben. Megan
I love reading Rick's daily posts and am amazed to hear how many activities the group is involved in...real, life-changing, meaningful work. Can't wait to hear more each day. xoxo
---
Susan Huntington - 5/25/2018
No more comments are allowed at this time.