Viewing Post for: Women's Projects in Tanzania 2018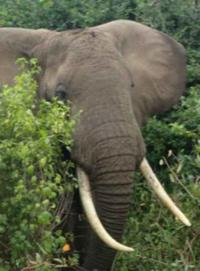 Date: May 21, noon
Location: Manyara National Park and beyond
We are here safely. Plane flights all went well. Unfortunately we had a variety of challenges at customs upon entry that cost us over $500 and several hours of negotiations. We were trying to get a number of duffle bags of donated computers, medical supplies, water treatment, tents, clothing.... sad when there is so much need for these items here. So we got to the hotel in the dark. People were pretty tired yet some took advantage of the fire to hang out until after midnight.

Today we got up to a delightful breakfast of local tropical fruits and more. Bayo and Lightness came at breakfast. It is good to see our long time friends again. We gave Lightness a portrait of her that Esther who was here last year painted. So today is safari day.. All were super excited to see elephants, lions, giraffes, baboons.....it really feels like we are in Africa today. Mind blowing to drive along slowly because the road is clogged with baboons then to be stopped by a elephant.

Welcome to Africa! Feel free to write us, ask us questions daily on here.
---
Messages for this post
For: Karen Olson
Have a great time Karen! Sad that your group had to pay to get supplies for the village through customs. Elaine
---
Elaine Sauer - 5/23/2018
For: Karen Olson
Karen, Excited to read all that you do every day. Have a wonderful time and may all of you do great good for the locals.
---
Krickmires - 5/21/2018
No more comments are allowed at this time.