Viewing Post for: Women's House Building 2017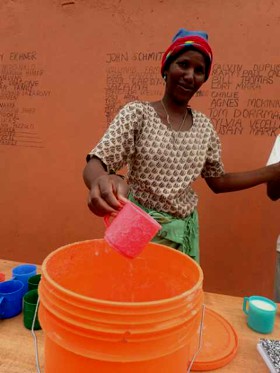 Date: Sunday, March 5
Location: Lake Eyasi, church and market day
Photo is of Lightness from the village, not our Lightness, serving our daily meal they make called ugi. Behind her are some of the names of donors the ladies have written on the wall of the house. We walked with our ladies from the village to their local small church made of mud and sticks. Inside it was decorated by bright scraps of cloth, light streaming in overhead from holes in the thatched roof. Floor was dirt and benches of raw wood. They met us singing and drumming. It was a beautiful experience. Wonderful singing and dancing, all praying together, bible lesson in Kiswahili interpreted by Yusuf. There were repeated prayers for us. Blessings for us. They told us that the houses were a miracle sent by God. They blessed our families and those back home that helped with donations. Each of us stood in introduced ourselves including the local people. They were dressed in their best bright clothing. We ended with a giant circle of blessing outside as goat walked around. We then went to a local market. A sprawling affair held 2x a month in the middle of the hard dirt area. There is an area for each item. Here for 150 dollars we purchased 2 beds for Christina in her new house so they would not have to sleep on grass mats on the concrete floor. Some bartered for local bright cloth to take home. The locals were adorned with huge pierced ears, bright beads of necklaces and bracelets, bright cloth and their tire sandals. We ate goat roasted over and open fire under a burlap tarp. Delicious! It will be hard to convey, even with pictures what it is like in so many of these experiences. We did indeed feel blessed and it is indeed a miracle to share the lives of these beautiful people.
---
Messages for this post
For: Mary Callaway
Habari, Mary! Love reading about everything you all are doing and seeing. Church sounded so special. Take care! Love, Anne
---
Anne Bryant - 3/6/2017
For: Jaima
Hello!!! Wow wow! Sounds like my kind of church with drumming and dancing! I am sure you are loving every waking moment. The market!.... maybe some take home goodies!! Love you Jaima!
---
Daniel - 3/5/2017
For: Mama
I love you so much. I love that you are having a great time! Sounds really cool to be in a African church where they worship with drums!!! Miss you!!!!! Love Ella
---
Ella - 3/5/2017
For: Mama
Hello Mama!!! I went church today too!!!!!! Your church sounds awesomely coolly amazing! I hope you are having fun. I love you so much!!!!!!!!!!!!!!!!!!!!!!!! You might look different when you get home. I can't wait for the next post! Miss you Mama!!!!!!!!!!!!!!!!!!!!!!!!! Love Adelai
---
Adelai - 3/5/2017
For: Mary Callaway
Hello there way far away - this seems like the very best trip of all and we rejoice at your enthusiasm and optimism. Carry on - Helen and I went to GEVA for Guess Who's Coming to Dinner and it was terrific - you taught me the value of being upfront - we were practically in the living room. It got cold this a.m. - 8 degrees when I left for church, but it's suppose to warm up tomorrow. all love dear girl, Mary
---
Mary Critikos - 3/5/2017
For: Jaima
The trip to church sounds amazing! Each blog, I keep thinking, "Life changing for all of you!" Treasure every moment of this adventure re. Home from a cold, cold weekend in NYC--but great! Love you, Mom
---
Mom - 3/5/2017
For: Christine
Hi Christine! Thinking of you everyday! I hope you are feeling the great energy you all are attracting. Blessings back to all of the wonderful people who are working on this project. Hope you're are having a chance of a lifetime!!! Big Hugs! Lisa
---
Lisa - 3/5/2017
For: Christine
Happy Sunday Morning to our beautiful daughter :) The sun is shining here but its 18 degrees outside! We said special prayers for you at church last night & did you know that you have a Guardian Angel watching over you ! We look foreword to reading the blogs everyday & trying to imagine the special feelings you have for all your new friends :) especially being so close to God at their church & dining on Goat ! We've been telling you for years that you are beautiful inside & out !
---
Mom & Dad - 3/5/2017
For: Mary
Hi Mom, we are enjoying your adventure vicariously and devouring every update. It sounds like an amazing and inspiring experience. I talked to Dad on the phone. He is in good spirits. He is staying active with lunch and concert outings. We love you. XoXoXo, Todd, Genevieve and Ginger
---
Todd - 3/5/2017
No more comments are allowed at this time.