Viewing Post for: Everest Base Camp 2010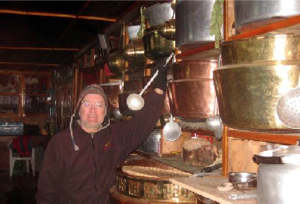 Date: November 16, 4 pm
Location: Monjo, 9,800 feet.
Started at Kami's house. His temple is amazing. Then we went to the local monastery where we saw the Yeti skull. Next down, down, down, through Namche to Monjo. Drama of the day is how many days the Lukla airport has been shut. Rumors fly faster then then the wind. We have heard thousands are stranded in Lukla. Desperate to see loved ones, some have begun on foot for Jiri, a 5 day hike from the airport. Others dug deep in their pockets to shell out $850 for a helicopter ride out. We cast our fate to the Gods, today 12 planes departed. Rooms are opening up and visions of hot showers dance in our heads. Tomorrow we will update with the truth as we find it.

We continue to enjoy returning to the scent of pines and the rush of the river. We one moment think of our loved ones and the next are still in awe of the place we are in.

STEPS AND STATS
Missing, we are enjoying apple wine so no science information tonight. We have a new science experiment, the effects of alcohol at 10,000 feet for some members of the group.
---
Messages for this post
For: To? Tom S and my other favorite JOI hikers
Can't wait to see you all home again safe and sound! Prayers for blessings and protection as you travel back from half-way around the globe. Love, Mary
---
From? Mary S - 11/17/2010
For: kathi
Drinking again...this is sounding more like one of our packpaddleski adventures with Deb-did she sneak up there?? Any Coronas?? Monkeys in need of surgery?? you have fun...try staying sober for the plane ride-THAT should be good..you could wear a mask and drool on the woman in the seat next to you! Brenda
---
brenda - 11/16/2010
For: Tom W
Final Highlights... Seann is still working on completing his undergraduate degree and hopes to retire from RIT in the next 5 years. Have a safe trip back! Love all of us.
---
Your Family Back in Rochester, NY - 11/16/2010
For: Tom W
Highlights Continued... Terry has just finished his 19th year in the state penitentiary. You might recall he was arrested and later convicted of charges related to the riot he provoked while protesting labor wages for steamfitters at the local pet food factory. Melissa and Kate are doing fine. Mimi is lost somewhere in the Adirondacks. Paul has not given up hope and tomorrow begins the 538 day of his solo search and rescue mission. However, some authorities have reported possible sightings of
---
Your Family Back in Rochester, NY - 11/16/2010
For: Tom W
Hi Tom/Boppa/Dad! We wanted to let you know that we can't wait to see you. A lot has changed since you left so long ago... Here are some of the highlights: Sam was recently drafted to the Sabres. He is confident he can surpass Derek Roy as leading scorer by the first of the year. Mary and Libby are starring in the Broadway musical hit, Wicked. Mary is playing as Glenda the Good Witch and Libby as the Wicked Witch of the West. Tessa just finished medical school and is looking forward to he
---
Your Family Back in Rochester, NY - 11/16/2010
For: Alison Currie
Get back here in time for the next PTA meeting and make us green with all your adventures. Looking hot for lack of showers and the conveniences of life. You go girl! Lisa
---
Lisa Cuff - 11/16/2010
For: Paul Guitar Man Artruc
You better get back here quick ... you ought to see the Facebook posts Slim Jim Lynch's digging up from college ??? Terrible PR for the band, man. LOL !!!
---
Martha Roney - 11/16/2010
For: Kathi
Mmmmm - apple wine?? Better than Sweet Walter??? See you Sunday - after our mulled wine at Stony Brook. Take care and keep trekking safely.
---
canoelite - 11/16/2010
For: Esther
Nothing like apple wine and yeti skulls in monasteries!
---
Jeff & Emily - 11/16/2010
For: The gang
Wow! almost home. hope the flights from Lukla are on time. Can't stand waiting another day. Enjoy your time there and the celebrations. You all deserve it! Thank you for all you have done. Paul, we have plenty of goat dung for you on your return. Does this mean we don't need to buy any more firewood?
---
Linda #2 - 11/16/2010
For: Kathi
Enjoy your apple wine high. You deserve it! Hope things work out for you to leave Lukla on time.
---
Laurel - 11/16/2010
For: Darlene
I hope all goes well with getting a plane out of Lukla. I ran into John at Wegman's today and we traded views of how you & Allison were coming along. You looked happy enough in that birthday photo that was posted so I know that you are having a memorable time. Hope you get a nice photo of that Yeti skull for me!
---
Jesse - 11/16/2010
For: Matt
We like hearing about the life in Nepal and the pictures are great. Buddy wants to know why the Yaks get a whole floor in the house and he only gets a dog bed??? He hopes you will value his dung more now that you know the value of yak dung. We hope the airline troubles resolve quickly so you are home soon. Love ya!!
---
your girls and buddy - 11/16/2010
For: Patrick
From Annalie: I miss you very much, daddy. I hope you come home soon. What did the candle say to the lamp? Wow, you're hot! Bye! From Robin: I'm pretending I didn't read anything about potentially delayed flights and am focusing instead on the experiences you're having now. Annalie got a fabulous progress report from school yesterday. I have a PTA meeting tonight. Think it will be more fun than you're having? I miss my Amazing Race buddy. Love you!
---
Robin & Annalie - 11/16/2010
For: ALL
!WONDERFUL!
---
Bonnie L. - 11/16/2010
For: Matt Flanigan
Proud of you all on your journey to near the top of the world!! Well done for all the right reasons !! Best Jeff Bastable
---
Jeff Bastable) - 11/16/2010
For: Jim Thies
Nice picture Jim; very brassy. After your previous heady experiences, a Trial by Fire-water sounds quite enjoyable. Hope you guys are able to get transport on time out of Lukla. Keep us updated on your arrival time.
---
Carroll '08 - 11/16/2010
No more comments are allowed at this time.