Viewing Post for: Everest Base Camp 2010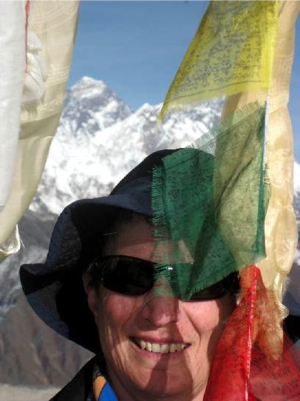 Date: November 8th
Location: Gokyo, Nepal, 15, 500 ft
12 plus hours of hiking brought us probably our hardest day of the trip. We crossed the 17500 foot Renjo Pass. This picture is of Esther at the top of that pass. Behind her is Everest. As we broke over the rocky ridge, a panorama gigantic mountains spread out in front us. It is hard to express what it is like to slowly take a step, maybe your head is pounding, stomach queasy from the altitude, to take 1.5 hours to gain 500 feet.

Long day. We ended in the dark hiking By headlamps. Esther characterizes this trip so well. She is a cancer survivor, went to Kilimanjaro, did not summit but had the courage, despite her doubt, to come here.

We are adjusting our route due to snow on the glacier at the next pass. Tom Walker went around the pass yesterday because of needing more time to acclimate. We will reconnect with him in two nights.
---
Messages for this post
For: bonnie and jim
Cannot imagine what this great experience has been like. Now we pray for the trip home .No more delays,Get on upAF58C there and come on home. Be three times blessed,be safe,becareful, be4
---
Dorothy M - 11/18/2010
For: To All
You are all awesome!!! Keep up the great progress...
---
Solomon - 11/10/2010
For: esther
Come back esther. Ur charts r missing u. Of course i miss u more than they do. Muah
---
Soheila - 11/10/2010
For: Esther
Hi there, Esther! I just think it's so wonderful that you're doing what you're doing. Big hug, Rabbi Amy
---
Rabbi Amy - 11/10/2010
For: To? Es
Love your pic with the shmata flags
---
mudflaps - 11/10/2010
For: To? All
Great to see you reach 17.5.Great to hear theaudio post only to get Matt's ACS pitch. Please take a pic of asign that says F*CK Cancer YOLO for my patient, Love you all. Stay safe
---
from: mudflaps - 11/10/2010
For: Esther
Excuse Ralph's language. He got overexcited. What a great picture! Great to see you there! Emily is very excited about the scenery and the turquoise lakes. She wants to know if you can pet a yak.
---
Jeff & Emily - 11/9/2010
For: Esther
congratulations mom! i love you!
---
Paula - 11/9/2010
For: Esther
Holy Shit! 17,500 feet. What an experience you're having! Hope you're physically doing OK. We can't even imagine what it must be like standing there looking at Everest. Good for you Esther!
---
Ralph & Alice - 11/9/2010
For: Esther
We are so impressed! What an adventure!! How's that Nepalese beer?
---
Jay and Deb - 11/9/2010
For: Esther
We finally found you!!! You look great, keep going!!! We have goosebumps looking at that picture. P.S. you missed JACHO, don't worry, we have all your charts waiting for you!!
---
Club Twig - 11/9/2010
For: Esther T
You go girl! I am so proud of your determination
---
Rabbi Alan - 11/9/2010
For: Esther
Looking good and way to go! It looks amazing.
---
The Tuber-Silbermans - 11/9/2010
No more comments are allowed at this time.