Viewing Post for: Everest Base Camp 2010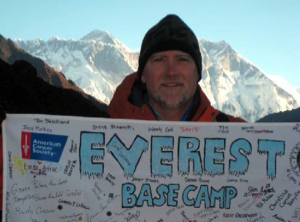 Date: November 7 - Audio Post
Location: Rest day at Arya. 14,005 ft
Here is an audio post from the gang. Download or listen:
---
Messages for this post
For: Paul A.
Hey Paul....great banner! We can't wait to hear about your adventure...keep on keeeping on! We are so proud of you! As Nemo says..."just keep swimming, swimming, swimming..."
---
The Pietrowski's - 11/10/2010
For: Paul A
Don't listen to Martha. Great photos of old ugly dogs have little value! Miss playin' with you bro but my CC girls won sectionals so we're off to States and keepin' busy. Bought a new guitar to sing your praises with! Be well and keep pushin' on!
---
Jimbo Guitar man - 11/9/2010
For: Band Man Artruc
So, SLIM JIM LYNCH cops the blurry photo of himself that I took when you were playing at the Idle, uses it as his FB profile pic and THEN tells me there are NO royalties to be had by this gosh darn band of yours? Sheesh! I can't WAIT for the band MANAGER to get back here and kick his butt with a boot full of YAK dung. LOL. Following you every day. Peace!
---
Martha Roney - 11/9/2010
For: Darlene
Just wanted to let you know that everything's ok here. Tim and I went to the race track yesterday and I'm off to Rob & Pat's tonight. I miss you but wish you well on your journey.
---
Jesse - 11/9/2010
For: Tom W
Hi Boppa, You and all the climbers are awesome!Don't forget to give the Dali Lama our warmest regards!
---
Terry,Ooie,Sam,Mary Kathryn,Libby - 11/9/2010
For: All
I had a dream that I ran into you guys in a bar last night...weird. I'm glad you are all still there chugging along and not getting wasted at the Vital Spot! Leave the beer-drinking to me :)
---
Meg - 11/9/2010
For: Esther
I hope you are having fun.
---
Paula - 11/9/2010
For: All the Joi Climbers
Hey Rick, where did you all go? I usually check this site every morning before going to work and before going to bed. Oh, okay and a few times during the day. I am not obsessed just in complete awe of all of you. I am sure it is getting harder and harder and know I am with you every step. Stay strong and warm. love to all.
---
Kilikaren - 11/9/2010
For: Our JOI EV Heros
WOW! I'm sooo impressed. You go guys/girls! Been thinkin' about you lots 'n sending all my good vibes. Prayers for your safety every minute! Hey, Mamma Bear, How's the knee? I trust you're taking care of it. Stay warm everyone. Love and Hugs! Bonnie L
---
Bonnie Lloyd - 11/9/2010
For: All!
It's fantastic just thinking about what you are all doing ... I'm jealous and in awe and happy for each one of you to be having such a beautiful experience! You are all so inspiring! Stay strong and keep sending off those good vibrations ... we are all thriving on your dedication!
---
Laurie - 11/8/2010
For: PAUL ARTRUC
Hey Paul: I just posted your picture w. the banner on JNFR's Facebook page. Her vision is bugging her lately,she said. But I'm sure she won't miss your sweet, larger than life and love self. Take the view in for us all. Thank you, stay strong everyone. The pictures and audio are terific. So proud. Peace!!!
---
Martha Roney - 11/8/2010
For: Patrick
Patrick, we haven't seen your pic in several days and have been concerned that you may have encountered a Yeti in heat. Please tell us that it isn't so ??? We were also wondering whether or not anyone has hit you in the back of the head recently ??? It builds character !!! Wishing you the best on your exciting journey. The Director and The Deputy
---
The Director and the Deputy - 11/8/2010
For: Matt
Hi there! What gorgeous photos! I can't wait to see more. And how cool to hear an audio message. We chatted today in a meeting that we are not sure if it is good or bad that you can be in such a remote location and still be somewhat connected to work! We survived week 1, and week 2 is off to a good start. Handled a staff meeting without you and jeanne is here for the next 2 days. Gavin update - 2 teeth and eating veggies like they are going out of style. Enjoying all the updates - we are
---
Kate - 11/8/2010
For: Tom W
Awesome to see your progress! Can't wait to hear all about it. I know you are enjoying every second of it.
---
Seann - 11/8/2010
For: Paul A.
... We are SO THANKFUL to Paul and the others climbing for contributing to research that may allow those living with cancer to live long lives!" On behalf of caregivers everywhere... THANK YOU. May God bless you all and keep you safe! Nanci
---
Nanci B, Beth & Tommy, Carrie, Marianne & Bernie - 11/8/2010
For: Dad (Tom Walker)
Boppa! I love you and can't wait to hear about your trip and see your pictures! I miss you so much!-Tessa
---
Tessa - 11/8/2010
For: Paul A.
Paul- today I honor you and your fellow climbers on my fb wall: "RIGHT now, a dear family friend, Paul Artruc, is hiking in Nepal UP to Everest Base Camp! With this climb he honors his wife, a long time cancer survivor! He is a climbing warrior, previously climbed Mt. Kilimanjaro, and has personally raised tens of thousands of dollars for cancer research! Paul is carrying a flag with the names of many who have been affected by cancer, including my mother and my sister. We are SO THANKFUL to
---
Nanci B, Beth & Tommy, Carrie, Marianne & Bernie - 11/8/2010
For: Mom (Kathi)
Thinking about you alot..always wondering what time it is for you n what u r doing? Miss talkin to you too but dad is making up for that. We check in with each other everyday. Kids n Ralph r good. Today is our anniversary..kids r going to Brittneys so we can go on a date!! Mya is lookin forward to seeing you next month. Ralph has been asking about your dates so he can take off from work because I think he is under the impression you r comin to see him!!! Love n miss you!!
---
Tommi - 11/8/2010
For: Paul
Keeping an eye on you! You look cold - hope you are keeping up with the rest. It snowed here last night. White all over - Adina's kids are now waiting for Santa! Keep up the good walk! Stay warm!
---
Susie - 11/8/2010
For: Tom W and all
Have been following your progress. It sounds so exciting, and the pictures are fantastic. Best of luck.
---
Pam W - 11/8/2010
For: Paul Artruc
Hey Paul. LOVE seeing the banner. Emily's addition of BLUE rocks. Been listening to some Neil Young; Old Man, Comes A Time, Sugar Mountain and thinking of you. STAY STRONG EVERYONE. Peace and love.
---
Martha Roney - 11/8/2010
For: To? all
lost another message, love to all, we're thinking of you
---
from mudflaps - 11/8/2010
For: kathi
Here's a little news from sea level: Annie's baby made his arrival on Friday, three days early and she did it on her own - no C-section!!! Not easy - I think she feels like she climbed Mt Everest herself. Mama and baby Benjamin are both doing well. Have been thinking of you often - cheering you on. Val is here and sends her best.
---
Martha B aka Nana - 11/8/2010
For: Everyone
Rick, you have to read the following joke very expressively...ok? Ready go. Two muffins were in the oven. The first muffin says, "Wow, it's really hot in here!" The second muffin says, "Holy cow a talking muffin!!" HAHA! Keep on keeping on everyone - the pictures are fantastic! Love, Sadie.
---
Sadie - 11/8/2010
For: Paul
Looking great, Buddy! Stay strong! Really enjoy following your amazing and truly inspiring adventure!
---
Jeff and Laura - 11/7/2010
For: Patrick
It was great to see your picture - love the headgear!! Glad to hear all is going well and you're having a grand time. Just remember - be careful and come home safe and sound. Love you.
---
Carol - 11/7/2010
For: Bonnie & Jim
We are so proud of you! The updates including the pictures and audio are truly amazing. You and all of the climbers are in our thoughts and prayers! We can't wait to see you when you get back and see some more great photos. I saw a couple of jokes posted so thought I would send you a cow joke. What do you call a cow after she has a baby? Decaffeinated. We love you! Stay strong and safe.
---
Mary & Bill - 11/7/2010
For: Alison
Charlie, Maria and I are marking your progress on the National Geographic map. The Swarm has decided you must not be home so now they wait at the door. We continue to muddle through life here, so continue to have a great experience! And take pictures while the battery holds out. P.S. Darlene's tomatoes were great.
---
John - 11/7/2010
For: Kathi
Glad to see that you are feeling good. Stay strong and take plenty of pictures. Enjoy the view.
---
Laurel - 11/7/2010
For: Matt
It made us cry happy tears to hear your voice!!We love you very much. Count 143 stars for us - they must be amazing from there! Can't wait til we're together,together,together!!!
---
Char - 11/7/2010
For: Paul
Great Banner. Seeing you makes me miss you more. Hope you rested well today and are ready for the next few days. Only 2 more weeks... and counting. I love you.
---
Linda #2 - 11/7/2010
For: Kathi
we followed your journey on Brenda's map today - WOW!!! And then we journeyed around Rattlesnake Hill pretending we were on Everest!!! Cold and muddy!!! But a great day to be out there!!! And you were missed (and so was Evvie). Be safe and be sure to take a picture of you in that skirt!!!
---
canoelite - 11/7/2010
For: kathi
we had snow here yesterday we made it threw the 5 year olds birthday just wait for mya's to come what a treat hope you and your team are staying warm and safe
---
shelley - 11/7/2010
For: Patrick
From Annalie: I miss you daddy. What did the banana say to the apple after breakfast? Nothing! Bananas don't talk! Want to hear another joke? What did the water bottle say to the fruit bowl after breakfast? I'm thirsty! From Robin: That's our girl. Two more weeks to go. Love and miss you like crazy, but in a healthy way. (Smile.) Hey, now that base camp has Internet access, send me an e-mail when you get there if you can!
---
Robin & Annalie - 11/7/2010
For: Paul & crew
Hi Paul & JOI crew, Boy do I wish I was with you!!!!! I love reading about your adventure. You're all in my prayers, stay strong!
---
Tina, Pat & girls - 11/7/2010
No more comments are allowed at this time.