Viewing Post for: Everest Base Camp 2010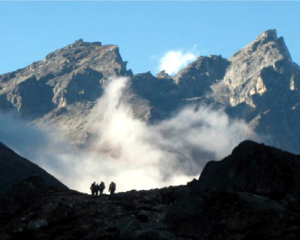 Date: November 7, 2pm
Location: Rest day at Arya. 14,005 ft
Love, love, love the rest days, chillin' at Arya. Actually,comfortable in the sun but it was less than 20 degrees last night. Tom S, Matt,Alison and Darlene went for a walk and watched yak herders on the mountain next door. We also flew kites-actually the sherpas did and with a little yak dung for weight, were very successful. The sherpas taught us how to get yaks moving with a whip device called a gurtok cheme gute which can also serve as a sling shot. Boy can those rocks fly! Early start tomorrow.
---
Messages for this post
For: Kathi
This is amazing! Can't wait to see all the pictures!! Good luck and stay warm!! There's a little boy here waiting to meet you when you come back!
---
Meghan & Mike - 11/8/2010
For: TOM
HI UNCLE TOM I HOPE YOUR HAVING A GOOD TIME. IT LOOKS COLD AT NIGHT PLEASE KEEP WARM. JUST WANTED TO LET YOU KNOW THAT I AM THINKING OF YOU.
---
LISA - 11/8/2010
For: Darlene
Hi Sis, I follow your progress early every morning. It's fun to share your adventure. Stay warm & safe. Love ya
---
JoAnn - 11/8/2010
For: Mom and Jim
wow, phenomenal picture! Hope you are having fun! We are thinking of you all often. Stay safe!
---
Michelle - 11/8/2010
For: Tom S
Hi- thanks for the birthday gift. I guess you didn't hear that Josh & Julianna are expecting in mid-Feb. His present estimated weight of 4 lbs have earned him the nickname 'Moose' Keep climbing! Love Sara
---
Sara and the Hrizaks - 11/8/2010
For: Esther
Great view! Glad to hear all is well. Yak dung works for everything. Brighton had a good lacrosse day--only loss was in sudden death overtime in the finals to West Genesee. Emily played well. Love you.
---
Jeff & Emily - 11/7/2010
For: Alison
At 14,005, you're already higher than I've ever been. Love the idea of wireless connections all the way to Everest! Have a great time ... making major memories, for sure.
---
Susan Price - 11/7/2010
For: Darlene
Following the progress of your group has been lots of fun. I hope that you are getting many great pics to show me later! Had an e-mail from Patrick and he & Gillian are checking on you too. Tim & I are off to the Finger Lakes track tomorrow. Hey, 2 weeks from today and you're back home!
---
Jesse - 11/7/2010
For: Matt and all
This picture is amazing and we can't wait to see everyone elses photos when u r home (we know Matt is not the photo journalist that Paul is!)Tonight Teagan said, "its ok we are without Dad for 3 weeks because he's making it possible for someone else to have 3 more weeks with their dad." That's what you are all doing!!Keep taking those steps - you climb for all of us!
---
your girls - 11/7/2010
For: kathi
we just returned from our sunday hike-we looked at the map and charted your course,then did a fine 3.5 hr hike..lots of mud at times. thinking and discussing your adventure much of the time-we pushed on and up hoping the little we did helps you along..we are all so proud of you...of course we had chocolate and thought of you..also thought we should have picked up your Eve and brought him along but sure he is loving his golfcart rides!Indian summer this week..winter lurks in the background for no
---
brenda - 11/7/2010
For: Paul Artruc
Following this blog daily with such anticipation, pride and gratitude. Peace Paul to you and all your awesome climbing friends, thank you.
---
Martha Roney - 11/7/2010
For: football fans
The Bills remain winless. Don't let that ruin your day though, we still have a great reason to celebrate - it is Sadie's birthday - mine too! Woohoo! I hope you enjoyed your day of rest. Love the updates!
---
Meg - 11/7/2010
For: To? My favorite JOI Hikers
TGlad to hear that you all are doing well, it sounds so fantastic! The local guys who sit down at the corner store asked about you today, Tom, when I bought the Sunday paper. Persistence: The race does not always go to the swift, but to those who just keep moving in the right direction. Blessings to all!
---
From? Mary S - 11/7/2010
For: Alison
Hi Alison, We thought of you yesterday when 10 PALS Mentors trained at the BCC. The mountain metaphor came into play. Every step taken, however hard or steep, is now behind. The terrain is tough going at times, but with a good guide (PALS) and a few experienced Sherpas (medical team)... no one has to climb alone. Keep climbing, hiking, running, loving and living. You, Alison, inspire all of us.
---
Holly and Tracey - 11/7/2010
For: JOI Team
Great to hear everyone is doing well. Phenomenal pictures so far. I guess Tom's knee is OK if he can carry the Sherpa pack or at least lift it. Good luck to everyone and we are all avidly following your progress.
---
Carroll '08 - 11/7/2010
No more comments are allowed at this time.