Viewing Post for: Mongolia on Horseback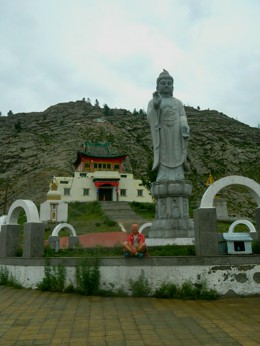 Date: Wednesday, July 6, 2016
Location: Tsetserleg, Mongolia
Haiku from Roman: The camels do not appreciate their noses being pulled like that.

Our last day before we begin our nomadic life. Supplies. What would you buy if you knew all the local meals would be mutton stew and porridge? And the store was all Mongolian food? Those were the choices today.

First we visited a temple from the 15th century. Excellent place to get grounded. We will be riding in the core area that produced Khangis Khan. Amazing place to be part of the thousands of years where life is the same as it has been in many ways.

Enjoyed our last fresh coffee before we begin the local tea of butter, milk, salt. Just starting to hit that we in Mongolia. Everyone is very excited to be on our horses tomorrow.
---
Messages for this post
For: Elizabeth
Thinking of all of you and enjoying the pictures you emailed and Rick's update. Thrilled to hear your voice last night sounding so relaxed and ready to ride the dear beast of burden that will transport you into the wild! Enjoy this amazing journey and the lovely company and keep the updates coming. Hello to dear Rick--keep the DF safe and sound! Much love!
---
MK - 7/6/2016
No more comments are allowed at this time.