Viewing Post for: New Zealand Adventure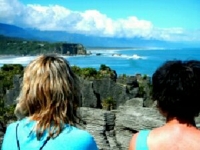 Date: FEBRUARY 26, FRIDAY
Location: FLOCK HILL NEW ZEALAND
Another diverse and beautiful day. We awoke to the sound of the surf. Breakfast on patio watching the waves come in. Then off to explore along a lovely river right out of Jurassic park.

Lunch was on the Pancake Rocks watching the blow hole. Boom.

We drove deep into the mountains to Flock Hill Station. A working sheep ranch. Fresh lamb tonight.

The group is a bit wild. We are practicing our accent in the stores and at the lodging. For example, "honey, do you want reeed?" (Red wine). It is a party just at the cash register. People are relaxing and the child is coming out in all of us.

Hoping group does not get more out of control. Kiwi people are lovely!
---
Messages for this post
For: K-ran and Bill Pakulski
Sounds like you are having an awesome time!! Now control yourselves!!! Lol
---
Kate - 2/27/2016
No more comments are allowed at this time.