Viewing Post for: Inca Trail 2015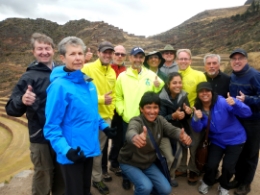 Date: Tuesday, August 11
Location: Pisac, Peru
We are up, up, up. Much cooler here, cloudy. Fantastic lunch of local foods, ceviche, local sweet potatoes, guacamole, local corn dishes, fish, beef, deserts., so many dishes.

Then off to our first visit to a huge Inca site on the mountain side. Windy. Over 20,000 tombs, caves on the hillside. Many were opened years ago by treasure seekers. But many still contain the mystery of treasures. Stopped at a local market. Very colorful local people selling their handicrafts and food products.

We landed at 10,000 feet but tonight we sleep in the Sacred valley, about 9000 feet.
---
Messages for this post
For: Torey and TJ
Hi from BFLO!I actually just got home from coaching our new Pre-School Camp.We did gymnastics for about an hour and then did a craft,ate a snack,and told stories.At story time,I told the kids that there was a boy that lived at the bottom of the pit.He had a bed, a kitchen, and a bathroom.And whenever anyone jumped into the pit, he would get angry because he would smell everyones dirty feet!They were shocked!If anything, I hope this message puts a smile on your face.Thinking of you guys xoNatalie
---
Natalie - 8/18/2015
For: TJ
Such amazing pictures ! I hope you're having a great time exploring . Take in the culture and everything you come across because I will have half a million questions when you get back ! Haha! Have fun & see you soon !!
---
Angela - 8/13/2015
For: Dad. Raj rana
Hope you are having fun dad!!! Looks amazing!!
---
Nehal - 8/13/2015
For: Torey
Hi Buddy...hope you're having a great trip so far. I'm thinking of you every day. It sounds like a fun,amazing trip so far. Hope you have a great rest of the trip.I'll be looking for where you travel next.
---
Sarah S. - 8/12/2015
For: Jurij
Be careful on the hike! Don't need a split forehead or ripped Achilles.
---
Marie - 8/12/2015
For: Soha & Beej
Hi ladies and crew! Loving the Facebook posts and these - reading everyone's messages to you all is almost as fun as Rick's posts! Keep the smiles everyone! David is super psyched for you and says Hey! As for me, I'm off to Minneapolis tomorrow and then back to take mom on a hike (um are we allowed to say we're hiking when we're only going for 5hrs and 500' ft elevation? :-) Have fun all!
---
Sona - 8/12/2015
For: Curt
Looks like you are having a great time! Thanks for the link and hope you found some beer (but not wings because hey are only good at home in Buffalo!!)
---
Mike R - 8/12/2015
For: Everyone
Sounds so awesome. what a great opportunity and the right people to appreciate it. I am thinking it is time to retire and hang out with Rick and Friends......can't wait to hear more.
---
Terri - 8/12/2015
For: Torey, TJ and everyone
I feel like a stalker, checking the site as often as I can to see any new pictures or postings. Sounds as though you have all been busy and active. I am tired just thinking of all you have done in such a short time! Hope tomorrow is another great day. Have fun, enjoy your journey and make tons of memories to bring home to share with your families and friends. You are doing what the rest of us only dream of doing, so explore and experience everything you can. Love Sharon and Jacquie
---
Sharon/mom - 8/12/2015
For: Harry
Praying for your safety and hoping you have a wonderful trip!
---
Corinne Y - 8/12/2015
For: Torey and TJ
Shopping? Did I hear shopping? Our favorite family pastime! Enjoy the adventure, take care of each other. Love you both mucho much!
---
Christine - 8/12/2015
For: Sue & Bob
Know your having a great time and all is well here. Your planting beds are beautiful and very natural.
---
Bill, Jen & Mom - 8/12/2015
For: Harry
Tonight is the Persiad meteor shower - maybe you will be able to see it.
---
Shannon - 8/12/2015
For: TJ and your Dad
Wow! Your trip looks amazing so far. Glad everyone is doing well and having a good time. Can't wait to hear all about it when you get home. Be safe and keep sending pictures!
---
Michele and Jim - 8/12/2015
For: TJ and Torey
Your trip sounds amazing so far!!!! The pictures Amanda showed me are absolutely beautiful! I am living vicariously through your adventure right now...sounds so interesting, Inca sites, caves in the hillside, treasures, and local shopping, which I'm sure would be ranked as one of my favorites!!! I am keeping the kids up to date in your adventure and they are loving it!!! Can't wait to get together for dinner when Amanada is in town so you can tell us all about it...praying for you and your dad!
---
Roseanne, Mike and the Saeli tribe::Jonny, Sophia, Olivia and Alexander - 8/12/2015
For: Soha & Beej
Hope you both are enjoying the trip! Hopefully not too tired yet, have fun and say hello to everyone. Love, Mom
---
Jyoti - 8/12/2015
For: tory and tj
way to go Tory and TJ! praying for you both and so proud!
---
kieffers - 8/12/2015
For: Harry
From the sounds of it, all is going well. Keep on trekking. The local culture and food sounds intriguing and I hope you partake in all they offer.
---
Matt R - 8/12/2015
For: Beej
Go get 'em Shah! Spirit fingers... sending good vibes your way. Happy hiking :)
---
Morris - 8/12/2015
For: Harry
Sounds as if you are off to a good start.
---
Bruce - 8/12/2015
For: Beej
This is awesome! Hope you're having fun!!! Enjoy and I'm going to keep checking in. Have fun!!!!!!!!!!!!
---
Rupa in NOLA - 8/12/2015
For: Harry
Can't imagine you on that diet. Especially Ceviche. Will enjoy following you.
---
Ray - 8/12/2015
For: Torey and TJ
I'm still so amazed at what the two of you guys are doing! It takes so much courage and determination and we couldn't be prouder. Stay safe and do your best, thinking of you guys each day. And more importantly have fun!! Xo Natalie
---
Natalie - 8/12/2015
For: Torey and TJ
Have a great adventure - looks amazing ! I'll experience this through you since our idea of camping is a Marriott :)
---
Hollederer's - 8/12/2015
For: Soha and Beej
At 10,000 ft and ready to go. Have great and enjoyable hike. All good here. Hope you all are ready and enjoying . Hello to your group.
---
Gita - 8/12/2015
For: Harry
Looks awesome up there! Hope you are soaking up a lot of the culture there to bring back and share with us.Local foods...hmmm...eat anything orange yet?? Looks like you could be getting some windburn too. Embrace it all! And keep smiling; your lovely daughter posted your group pic on facebook so you have to keep looking good.
---
Marianne - 8/12/2015
For: Harry
Have a great day! Sounds exciting!
---
Shannon - 8/12/2015
For: Beej and Soha
Thinking of you hope u both sis are having good time 24x7 bonding while exploring nature's treasures. Hello to Rick and group
---
Alka and Mayank - 8/12/2015
For: Jurij
So what are you eating instead of the Ceviche?
---
Steve - 8/12/2015
For: Beej
We miss you! I thought about you yesterday when I was teaching, and I had not one, but two images of bears! The usual little white ones (I love them) and then one with two brown bears face to face. I'll be sure to show them to you when you return. At any rate, I hope you are enjoying your well deserved vacation. In closing, I've written you a haiku to keep you focused. Hi Soha! Oh the Inca Trail I'm sure it does not smell. . .much Please find me some bears! Love you Shahshank!
---
Jennifer and the CREW - 8/12/2015
For: Curt
Great reading about this incredible adventure you are embarking upon. We look forward to hearing more about your exciting endeavor !!!!
---
Amanda and Kar - 8/11/2015
For: Soha & Beej
Um, are you at Peru yet? Wait wait, did you climb the mountain? Beejmasi and Soyamasi can we see some pictures?! :) Hope you're having a great time exploring! Love you both, Ruchi
---
A2 - 8/11/2015
For: TJ and Uncle Torey
Sounds like the start to a wonderful adventure! Wishing we were there with you....we could be going into the tombs, looking for hidden treasures! Looking forward to future posts. Keep up the safe travels! Love you both so much and always believing!! XOXO
---
Ang and Kerri - 8/11/2015
For: TJ
What an amazing two days!! Paragliding, tombs and caves, delicious food; I'm living vicariously through you... Until you have to sleep in a tent. Maybe we'll practice camping in the back yard, so I can join you on the next adventure! Hahaha! Have fun, be careful. I love you, 17 envelopes left. See you so soon!!
---
Amanda - 8/11/2015
No more comments are allowed at this time.