Viewing Post for: Ethiopia Explorer 2015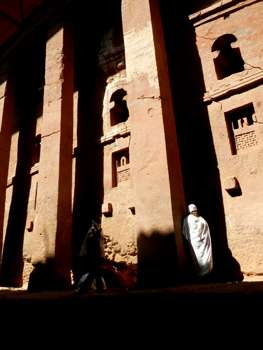 Date: Friday, March 6
Location: Labilela, Ethiopia
Another final and amazing day.

We are located on top a huge ridge. Spectacular setting. In town are 11 churches built in the 16th century. They were carved out of rock. You can't imagine what a treasure this place is. On top of that since it is lent some of the ancient churches have had the priests chanting all night. It was an incredible experience to be in these ancient carved churches with the chants echoing through them.

What a great finish for an interesting, exciting and diverse trip. It feels like you are still an explorer here. Tourism is just starting. This hilltop town is such a gem.

Now we are heading to an crazy restaurant to watch the sun go down over a vast mountain scene. Tomorrow we fly to Addis, have a grand feast with traditional music and fly home at night.

This is our last post. Thank you for following us. We wont be posting again on the PPS site until we go to Peru this summer. Follow us on the Inca Trail in August.
---
Messages for this post
For: Paul
Sounds like an amazing trip! You will have to share pictures once you are safely at home. :)
---
James and Ryan - 3/8/2015
No more comments are allowed at this time.