Viewing Post for: Ethiopia Explorer 2015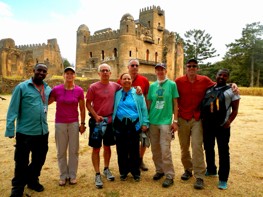 Date: Tuesday, February 24 - AUDIO POST
Location: Gondar Ethiopia
Here is an audio post from the gang. Download or listen:
---
Messages for this post
For: Rick and Marcia
Is there any snow there? It is great here. My leg is good enough to diagonal but no tele skiing for this month I think. I hope you are having fun.
---
Randy - 2/25/2015
For: Karla
Accumulation....Arg dang phone !!!!
---
Dawn - 2/25/2015
For: Karla
The castle is amazing. You have a smile from ear to ear so I know you are enjoying your stay and not thinking about FHCA. It snowed here today. No accusation but it was nice to see. We could use a little of the sun u have. Be careful and enjoy the rest of ur stay.
---
Dawn - 2/25/2015
No more comments are allowed at this time.