Viewing Post for: Ethiopia Explorer 2015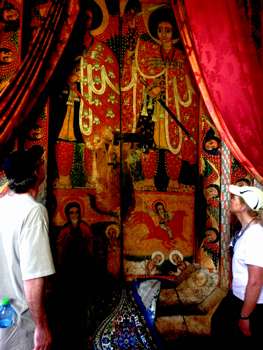 Date: Monday, February 23
Location: Bahir Bir
Trying to write this ind a bucking, dusty bus heading to the waterfalls on the Blue Nile. Excuse spelling.

Flew early to this town of 400,000 on the shore of Lake Tana.

Then we did a 4 hours boat and visit to the 13th century old Monasteries of Lake Tana.

We were extremely lucky to hit the first monastery on annual feast day. That meant 500 year old crowns of gold, silver, and other metals were being paraded around the monastery grounds on the head of the priest who were carrying a replica of the Ark. We joined the throng of white clothed celebrants circling and singing to the beat of a giant drum, swaying with them. Inside the circular, adobe (see picture) monastery were fabulous paintings 500-700 years old. The roof was thatched.

Our boat took us past hippos and the exit of the Blue Nile to lunch under a giant tree on the shore as local waterbirds swooped and paraded in front of us. What a contrast. Machiatto on the lawn and ancient religion in the morning.

We walked through an open air market. The red pepper section had us coughing. The local food is excellent. Great spicy sauces and local fish today.

The Blue Nile Falls was a bit low on water as it is diverted.

Extremely full day! Especially for jet lagged travelers.
---
Messages for this post
For: Paul
Glad you all got there safe and hope you got your bag ok. Hippos sound pretty cool. Had a few snow flurries this morning and they closed schools go figure! Have fun and enjoy!!
---
Mom - 2/24/2015
For: David and Martha
Why does the map have a push pin in Libya? That seems a bit far from Ethiopia.
---
Nancy - 2/24/2015
For: Chris & Gang
You saw hippos, so cool! It all sounds awesome & the food sounds delicious. TB is right, thermometers here are stuck below zero. Sorry Chris, you are missing all these fabulous sub-zero temps... Enjoy!
---
deb - 2/23/2015
For: ALl
So glad to see you are all having a good time. I see short sleeves.....WHAT? It is -1 here today. Blue Nile..when does it freeze so Chris can climb?
---
terri - 2/23/2015
No more comments are allowed at this time.