Viewing Post for: Ethiopia Explorer 2015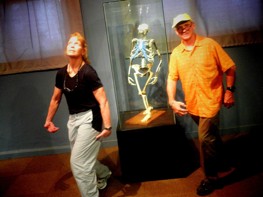 Date: Sunday, February 22
Location: Addis Abba, Ethiopia
All are here and safe. The plane was delayed for deicing out of DC. Kevin and Paul had their bag accidentally tagged for Bahir Bir where we go tomorrow so we are trying to get it out of the airport today. Still working on it.

The sleep deprived passengers went to the large modern hotel and then we toured the city. Addis is often called the Capital of Africa as the African Union is headquartered here. It is growing incredibly fast and has huge modern building mixed in with just dense masses of people thronging areas.

Rick and Marcia are posing next to reconstruction of Lucy, the famous ancient relative of ours. Behind us were the actual bone fossils.

Lunch was exceptional for our first Ethiopia food. Injera, the local bread, spicy meats with delicious sauces. We did visit the first palace of the Emperor of this city and Ethiopia at that time.

We are starting to get an idea of incredible length of history here, civilization started here. I think this may be a major take away of the trip. The length and richness of this country. The people are very friendly and very proud of their country.
---
Messages for this post
For: Paul
Hi Paul!Bummer on the mis-tagged bag. Hope you had something in day pack to hold you over. It will arrive soon enough. Enjoy!
---
Stephen, Kim, & Jackson - 2/25/2015
For: Karla
Looks like an exciting trip, wish I was there with you!
---
Brad - 2/23/2015
For: Paul
Hi Paul! We are so glad you made it safely! Bummer about the bag though, hopefully you get your stuff today. So jealous you got to see Lucy, she's so little! We will check back soon. :)
---
James and Ryan - 2/23/2015
For: Rick
Hey Rick, Glad to hear you made it to Ethiopa safely. Having just returned from Tanzania, we know full well how these posts from friends and family matter. We wish you and the others there full hearts, lots of love, and experiences to fill your souls and lift up others. XO, Kristine
---
Kristine Thompson - 2/23/2015
For: Karla
Perfect timing for your trip. It is one solid sheet of ice. Clinic is closed. Tomorrow may not be any better. It sounds like you had a awesome lunch. I can not wait to see more pictures and read the blogs. Enjoy your day today and be safe.
---
Dawn - 2/23/2015
For: Rick and Marcia
Hmmm. Not sure which of you look more like Lucy? Marcia has the posture but Rick has the silly grin! Glad to see you two together again! Still in Canada!
---
Lisa - 2/23/2015
For: Karla
I told you to be careful what you wished for. You will now probably be the most popular person on the trip! I will try to keep up on this blog so I can live vicariously through you the world traveler. Have a fun & safe trip.
---
Sheri Alber - 2/22/2015
For: Karla Dick
Its been raining pretty steadily here in Dallas so no walking for Kibo this evening. That's ok though, Lily has been keeping him plenty busy. It's also supposed to freeze tonight so the entire metroplex should be one giant block of ice tomorrow.....good times. Stay safe, see you when you get back.
---
Brad Barnett - 2/22/2015
No more comments are allowed at this time.