Viewing Post for: Patagonia & Wine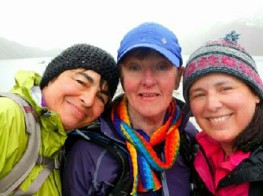 Date: Sunday, January 11
Location: El Chalten. Cerro Torre
The day dawn cold and snowy and continued that way. We hiked up a long, beautiful valley ending at a lake with a glacier calving at its head. We could not see much above the base of the glacier. Somewhere up there was the spectacular tower with its famous mushroom top of Cerro Torre. It was cold and windy standing on the sandy morraine so we did not stay long. We returned the way we came in about 6.5 hours.

Tomorrow we drive for Chili.
---
Messages for this post
For: Rick
Remembering my trip down that way a few years ago.Wish i was there now looks like fun.We just got done making travel to Ireland-England and Holland the coming summer.Warm here 8o Dad --Safe travels
---
Daddeo - 1/11/2015
No more comments are allowed at this time.