Viewing Post for: Bhutan Sept. 26, 2010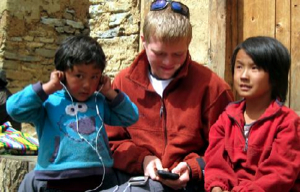 Date: October 9
Location: Thimpu, Bhutan!
Wow. Today completed the last day of our wonderful journey through the happiest nation in the world. Waking up to the familiar sounds of horsemen "schwa"-ing at mules and the peaceful sounds of the river we all packed up before having breakfast around 8. Thankfully the rain had stopped and after a wonderful bonfire last night most of our wet equipment was at least semi-dry.
Breakfast consisted of rice porridge, and momos which are steamed dough balls. Upon our request, Russian, our marvelous cook, made them for us which was a nice surprise. Many of us will be sorry to leave the wonderful cooking he provided for us all week!
After breakfast we walked the remainder of the footpath out to the bridge to the road, along the way noticing how different things were from when we had passed through days before. Firstly, the trail was saturated & muddy requiring much more concentration to navigate, as stone hopping was a must as most forgot to wear gators. Secondly, the landscape had changed, fields we had walked through before filled with rice where now completely harvested. Some still had piles of rice in the fields but most were barren.

As we approached the bridge some of the group were lucky enough to witness a local family using machines to separate the rice from the stalks. The two boys vigorously working the machines (which were foot powered) provided a nice show for us, including one-handed operation of the machine as well as arm pumping action. It was quite entertaining.
Crossing the bridge this time proved to by much less of an ordeal as the first time, and no cows were encountered trying to go the wrong way. The actual road (that cars drive on) was decidedly worse than the footpath, and the next hour and a half was spent walking through wet clay/dirt. Even though it wasn't deep it was still annoying and slowed the pace down considerably.
Walking past one of the schools along the road we were lucky enough to witness a soccer game, as well as the fight that accompanies a 9-10 year old unsupervised game. Comically, they used us as a barrier to run around to avoid each other, but quickly disappeared when the tourists (us) looked like they would join in the fun  :)

About 35 mins away from the bus, CJ, David and Robin hitched ride in the back end of a Nissan pickup that belonged to one of Robin's friends. The youngsters reported it was the best ride they had ever experienced in Bhutan, while Robin reported a sore behind. The rest of the group thinks the boys were too frail to have made it without assistance and throughout the night used it repetitively to improve their self image. Hilarious.

After everyone made it to the bus, we were forced to wait almost 45 mins for our bags to arrive, as part of the horse caravan. While we waited several members visited a shop, while Chris attempted to woo his (potential) wife on the steps out front.
The horses finally arrived, we claimed our bags, loaded the bus and settled in for a 2hr ride from Paro to Thimpu.
Once at the hotel we had a nice lunch, which was hurried along with enticing thoughts of hot showers and clean bodies! Lunch quickly ended and the cleansing began.

After everyone was clean we left the hotel to go buy awesome knives (which greatly pleased the men as for once they were spending the money) and visited the largest statue of Buddha in the world. Following the Buddha, which overlooks Thimpu and was donated by a billionaire from Singapore, more shopping ensued in the heart of the capital.
Most were happy to be heading back to the hotel around 645, although we were slightly delayed with one member blowing us off. After returning to the hotel we ate dinner with the president of the tour agency that hosted us in Bhutan. His wife and son also joined us.

Tomorrow we leave Bhutan for one night in Nepal, and then leave on Monday for the arduous journey home. Because of traveling this will be our final post. We will receive messages once more. Saturday night (your time) will be the last posts we will receive.
-Some interesting facts about Thimpu, the capital of Bhutan.
-It is the only capital in the world without traffic lights. We hope this is not something they plan on maintaing.
-40,000 of the 70,000 residents are Indian workers.
-Due to its location there is no possible way to build an airport. There are two airports in Bhutan, one in Paro and one being renovated in the south.
-The king lives in Paro, however in a very modest wooden home. He does not have a salary but asks his treasurer for anything he needs. Since he is in charge of the military this usually works out well.

The blog writers would like to thank CJ & David for writing such wonderful blogs. We hope they have inspired future blogs  and pps trips continue to see such high levels of reader involvement  :) 
THANKS FOR READING AND WE'll SEE YOU SOON!!

---
Messages for this post
For: CJ and Bugster
Food is waiting... your own beds... we are waiting for many stories... be safe, and don't forget your toys! Went 3 for 5 today as all of the Landy walks paid off big with 3 hours in the field. On another note, you will have a special tie to the other trekkers for the rest of your life!
---
Dad - 10/9/2010
For: Barbara and Greg
Tanya made all tournament team again! Greg, you better be prepared for the mob of people that will flood your office next week! Lots of aches and pains in the vball community in Rochester, which is desperately awaiting your return! Safe travels back home.
---
Mrs. Schirmer - 10/9/2010
For: Barbara and Greg
Hey, I am glad you solved the riddle. Sunglasses. Barbara had probably already seen the rain clouds coming and knew that she needed no more shades?!? I am glad the sun came out again for your last part of the trek. Last volleyball update before you hopefully are able to watch an AMAZING TEAM live in action back home: SHS won another tournament today, this time the Webster tournament, beating West Irondequoit in finals, after blowing Mercy off the court in semis and a Canadian team in quarters. T
---
Mrs.Schirmer - 10/9/2010
For: David
Idk if you will get this but I'll write anyways. I Just got back from the nd game. We won :) I'll see you soon!
---
Maggie - 10/9/2010
For: George
Can hardly wait to hear the stories and see the pictures. Love back to you. (Safe and pleasant journey home to everyone.) Joyce
---
Joyce - 10/9/2010
For: Gina
Safe travels home... I can't wait to hear from you on the flip side...
---
Leslie - 10/9/2010
For: Gina
Knives... yes! Real men have knives! Hope your shower was good! Did the criminals on your trip shave?
---
Clee - 10/9/2010
For: Gina
Great post, gang... thank you so much for sharing your adventures with so many... it was really enriching! We would still like to learn more about the National Happiness Index and any insights that may have given you about our point in time and history. So glad that the rain let up for your trek out! Gina, Mom is in Boulder with Rob & Doug and will then go to the airport to get Emily, so you won't hear any more from her on this website. Safe travels to all...
---
Your Sister - 10/9/2010
For: Catherine
Sounds like you and the boys are having a great time. Can't wait to hear all about it. The "girls" are doing great and having a good time here: eating, playing and of course...sleeping on the beds (mine and David's). Everything (including Katie, plants and fish) in your house is fine. We have had changing climates here in Rochester. The cold spells were on and off for couple of days before we had couple of downpoured rain then we had warm spells in the last few days :-). Have a safe tr
---
Mary - 10/9/2010
For: Chris M
Potential wife?? Is this you or the other Chris on the trip? A last thank you to the bloggers, these updates have been enjoyed by many folks at home, we all appreciate the effort. Rick, how are you going to top this one?!;) Chris, safe travels my friend.....you are coming home, aren't you? Or have you decided to stay? See you Tuesday morning! YAY! xo
---
Deb - 10/9/2010
For: Catherine, CJ, David
Lacey is nice and clean and ready for Nina's Sweet 16 soiree tomorrow. Sorry you will miss it. Safe travels home. Godspeed!
---
Kate - 10/9/2010
For: Chris
Sounds like you've had a really great time on this trip! I would also like to thank you and your bro for writing the blogs because they have been so entertaining and enjoyable to read. Hopefully you are looking forward to coming home to civilization again :p We are heading down to the lake today to have all kinds of fun seeing the fall colors by boat and other such activities. Have a safe trip home!!
---
Andrea - 10/9/2010
No more comments are allowed at this time.