Viewing Post for: Bhutan Sept. 26, 2010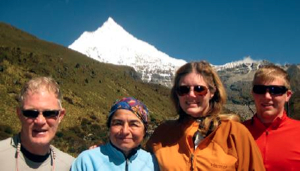 Date: October 4
Location: BASE AREA OF JHOMOLHARI, BHUTAN
Today was the rest and laundry day! Our group split up. Six of us (Chris M, Rick, David , Gina, Paul, and Kevin) took a 3 hour trip to the top of a moraine at the base of Jitchu Mountain which is 22,000 ft tall (Jitchu means angry sparrow). Equipped with 3 bandanas, a tube of chapstick, our clothes and hand sanitizer we boldly started the sport of extreme hiking. On the way up, we saw many, many beautiful wild flowers and several different yaks. The top of our moraine was 14,180 ft. After hanging around the top for awhile we headed down for lunch. We saw a snow leopard print in the mud on the path. Catherine and CJ got a tour of a yak herder's house. Steve and Melissa stayed in camp and washed enough clothes to fill a 4x6 square. Everyone else took small hikes. To Paul's mom: Don't worry, it was just a little dip. Thank you to all our commentors, they're a wonderful event to look forward to at dinner. If you are reading this, we want to hear from you!
---
Messages for this post
For: Catherine, CJ, David
As I look at the group heading up the trail to that tall mt.,I couldn't help but wonder if you were singing," Hi, Ho, Hi Ho...it's off to 'play' we go....or songs from the "Sound of Music". Did anyone in the group bring a harmonica or a musical instrumen? Maybe you dodn't have enough energy or air to blow a musical instrument at night. Now tell us what yak cheese is. I suppose that if you were really, really hungry you would love it and eat it. Cath, after your trip to Hong
---
Mom - 10/6/2010
For: Gina
Yep, we're reading them! Looks like a whole lot of posts came in at once... will check them out and comment some more. We still don't know how in the world you are getting Internet access...
---
Your Sister - 10/5/2010
For: Chris M
Good to hear from you all again! There must have been a delay somewhere in space because we just got 4 posts this afternoon (Tuesday). Chris - cool! I knew you'd be one to go further & higher! You rock. It all sounds so spectacular. Spending the night at a yak herder's hut...do you have to sleep outside with the yaks or in the kitchen with the cheese? :)
---
Deb - 10/5/2010
No more comments are allowed at this time.