Viewing Post for: Everest Base Camp 2014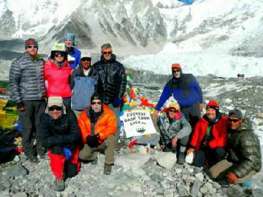 Date: Thursday, October 23. 5:00 PM
Location: Gorak Shep And Everest Base Camp. 17,300 feet
As you can see in the picture we all made it. Day was astounding. The altitude hammered most of us making it a tough walk. Combined with walking on glacial moraine which is all rocks, most are laying tight in their tents.

Please be sure to listen to Carlos on the audio blog as he expresses it best.

Total of 6 hours of hiking. It is head to believe after what has for many been years that they stood in the place they had only dreamed about. The immensity can not be conveyed.

Tomorrow we try to climb another 1,000 feet for the overall view of Everest. We will let you know how it goes and who makes it. Then we start to descend.
---
Messages for this post
For: Carlos and Nick
Yay!!! You made it. The pictures are so beautiful. I suspect they only tell part of the story. Can't wait to hear more. I hope the summit of Kala Patthar is equally awe inspiring. Congratulations on reaching your goal. Carlos, I loved your words on the audio post. I'm very proud of you. Be safe as you descend with those tired muscles.
---
Sue - 10/24/2014
For: kevin
Congratulations on getting to your destination. You now have another experience that will help put things in perspective. Can not wait to hear your tails of such a great journey. Be safe on your desend. There is a cold beer waiting for your return.
---
carl - 10/24/2014
For: Paul
Congrats! The McArdle family is so happy for you! Can't wait to hear all about it!
---
Kate - 10/23/2014
For: Paul
amazing! So glad to hear the whole group successfully accomplished this very impressive goal!
---
Lori - 10/23/2014
For: Paul Garsin
CONGRATULATIONS!!! What an accomplishment. Patty and I are toasting you and all the team as I send this note.
---
Bob Cloutier - 10/23/2014
For: John P.
HOORAY! Cheers to all of you for reaching the EBC, and many thanks to Rick for guiding everyone safely to your goal. John, do you have snow on your face or is that a white beard I see in the picture?! Wish I could give you a congratulatory hug but will wait till you get back to sea level, or almost, at Dulles! Good luck tomorrow on your last uphill venture.
---
Priscilla - 10/23/2014
For: David
BRAVO!!! David! We are toasting you!!! Congratulations!
---
Margaret Andy - 10/23/2014
For: Dad/Kevin
congrats!!!
---
cathy - 10/23/2014
For: Dad and Carlos
Congrats! What an accomplishment! Great work guys!
---
Steve - 10/23/2014
For: Carlos (Charlie) and Nick
EUREKA!!!!!!! You've made it!!!!!! So proud, so proud. Can't wait to listen to your comment. Love you!!!!!
---
Noly and Pop - 10/23/2014
For: Peter
Congratulations to all for making it to base camp! Sounds like it is truly a breathtaking view!
---
Susan - 10/23/2014
No more comments are allowed at this time.