Viewing Post for: The Way: A Pilgrimage Across Spain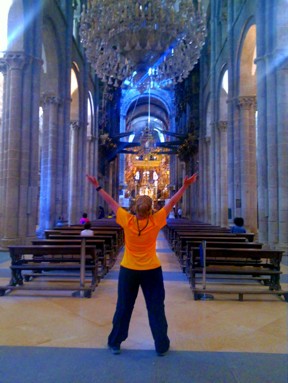 Date: June 12th, Thursday. 4pm
Location: Santiago del Campostella
Here I sit in front of the giant cathedral of St James as millions of peregrinos before me have. A bagpipe is playing. People are hugging. Some crying. Group pictures of smiling peregrinos. We have walked 500 km to get here. The blue, blue sky stretches above the towering statues of St James. My heart feels big and warm. Sending a wish for peace to all you read this and beyond.
---
Messages for this post
For: Rick
Way to go----Looks like a great trek Glad all are well
---
Daddeo - 6/13/2014
No more comments are allowed at this time.