Viewing Post for: The Way: A Pilgrimage Across Spain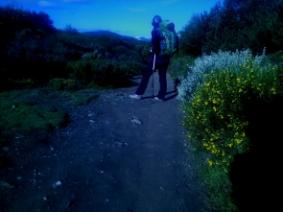 Date: June 1, 2014
Location: Ponferrada
180 miles walked, 130 to go.

We met a men dressed as a knight, a falcon on his hand. We held and stroked the bird. We left and I noticed a sign on his car. I turned around to return to talk to him. He removed his hood to show me the holes in his head from his cancer treatment. Now he takes his bird to visit sick people. I did not catch all the words but I did catch that when the people were sick, he flew his falcon for them and the word "freedom".
---
Messages for this post
Currently there aren't any messages for this post.
No more comments are allowed at this time.