Viewing Post for: Belize Dive & Jungle Exploration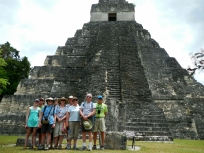 Date: April 11, Friday
Location: Tikal, Guatemala
Over 2,000 years ago a vast civilization flourished. It was our privilege today to walk among a few of the over 4,000 sites in a 10 mile in diameter radius. Only 800 of them so far have been excavated. An excellent guide gave us much to think about in our own civilization, past civilizations and lives. Overhead we watched monkeys and toucans. On the ground coatimundis. Long day on the road as we had to cross the border.

Tomorrow we go to the local market and back to Belize City. Sunday after breakfast we fly home.

We appreciate you following our posts. Your family and friends have enjoyed knowing you are sharing their journey. Our next journey is to the Himalayan kingdom of Bhutan in October.

This will be our last post for this trip.
---
Messages for this post
For: Barb and les
Wow, another stamp in your passport, so cool! Have fun at the market, try to find a monkey to bring home...kidding! We are attending 3 Easter egg hunts this weekend, whoof. Hopefully we can recycle the eggs at each one. Keep having fun!
---
Tara - 4/12/2014
No more comments are allowed at this time.