Viewing Post for: Belize Dive & Jungle Exploration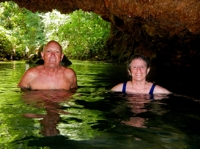 Date: April 9, Wednesday
Location: In the jungle, near Guatemala. Nearest town San Ignacio
We swam into a cave full of bats on the way here. Lots of colorful birds over head.

Our rooms are traditional thatch roofs. A river flows nearby. Ate lunch listening to a marimba band.

Off to look for birds.
---
Messages for this post
For: Barb and Les
Thatched roof, so cool. The bat pool sounds scary. It was a beautiful 70F here today, I asked Wyatt if he played outside after school, his response, "why wouldn't I?" True, very true. Hope all is well in the jungle! Hope your playing outside is fun, why wouldn't it be? :). Xoxo
---
Tara - 4/10/2014
For: Esther and Paula
The cave looks neat. Hope all is well. NU won 15-9 over Vanderbilt. Emily played a few minutes in the first half and the last 18 minutes of the game in Haydyn Anigan's place. She did very well and transitioned the ball up field 4 times without any trouble, once taking it all the way to the goal area before passing it off. She was pleased. Enjoy!
---
Jeff - 4/10/2014
For: David
Mom is so excited and proud of you and REALLY misses you!!! Not sure if I would want to swim in bat poop water!! :-) Hope you continue to have an amazing time!!
---
Cort and Jenn - 4/10/2014
For: Barb and Les
Hope you guys are having fun! Were you bitten by the bats?? No rabies, I hope! I've got exciting news for you :). Get the most out of the second half of your trip!!!
---
Katie - 4/10/2014
For: Jennifer
What a great way to keep up with your adventures. Am really proud of you and your spirit. Keep having fun, and dinner is on me when you return.
---
Sheila - 4/10/2014
For: David
Hi Hon, Just think you can now cross off another wish on your bucket list. (Sh-h- You know, the one of your dream of playing "Bat Man" (while in a cave no less)! My lips are sealed. I won't divulge your unusual desire to a soul. Promise. Miss you! Your FBG XOXO P.S. Rick, Wow what a GREAT photo! You sure did fulfill my wish to see David having a good time being his adventurous self. THANK YOU!!!!
---
Nancy - 4/9/2014
For: Jennifer
What exciting adventures! Enjoyed seeing what you are doing. How wonderful for you! Thank you for the link. Enjoy! Love Michele
---
Michele - 4/9/2014
No more comments are allowed at this time.