Viewing Post for: Kilimanjaro Climb 2014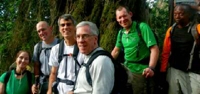 Date: Tuesday, January 21. 6:00 PM
Location: Mti Mkubwa, Big Tree Camp. 9,100 feet.
Jambo. Mambo. poa. Today everything is poa. The trail is in better shape then the road is. Some serious 4 wheeling to the start of the trail. We survived the ride. Now the mountain will be nothing. Dodged some flying monkey poop. Fireball flowers. Did not lose Yusuf. Beautiful bird sounds. Busy camp. Arrived before dark. All doing well. Do we give all the music instruments to the porters tonight to start a band or tomorrow? Stay tuned for more mountain drama.
---
Messages for this post
For: RIck
HAHAHAAH...The emporer has no clothes..neither did your son in his latest picture...like father, like son
---
Steven - 1/22/2014
For: Chuck
Hey Ranger, You are certainly earning your nickname on this trip. How does that harmonica sound in the high altitudes?
---
Smiler - 1/22/2014
For: Charlie
Hey Charlie! wow, this is awesome. Safe climbing to all of you. Looked up some pictures of what you might be seeing. Looks incredible - can't wait to hear all about it!
---
Clare - 1/21/2014
For: Harry, Dave & Charlie
Hi Guys, You are all looking great after a day of hiking the mountain! Looks like your weather has been clear. You are probably heading into the moorland tomorrow. You are sleeping as I write; you will be well rested and ready for day 2! Enjoy the change in landscape. Drink lots of maji!!
---
Marianne - 1/21/2014
For: Charlie and Harry
you guys look like you're having fun..... Climb On!
---
Katie - 1/21/2014
For: Harry
Harry - you are missing all the fun back here in the office...who is Yusuf? I'm guessing the guy with the green shirt on.
---
Fun - 1/21/2014
For: Harry Dave and Charlie
What an adventure! Have a great time on Kilimanjaro!
---
Shannon - 1/21/2014
For: Maggie & Kevin
Happy to see that your adventure is starting off well. Wishing you the best of luck as you make the next stage of the climb. Be sure to take lots of photos to share with us back at the ranch. Enjoy!
---
The MF Crew - 1/21/2014
For: Maggie and Kevin
Hi Guys This is your kitty update. All is well with them. Nice to be able to see you on the website. Love you Joanne
---
Joanne - 1/21/2014
For: everyone
Thanks for your post...I am a PPS Blog Junkie! Enjoy the Adventure. Does Rick have his Bags or is he borrowing clothing? Enquiring minds want to know...
---
terri - 1/21/2014
No more comments are allowed at this time.