Viewing Post for: Everest Base Camp 2013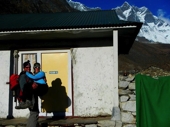 Date: November 15, Friday
Location: Chugkla, almost to high camp.
Sunny. 20 last night. 15,000 feet.

Yes, so close to high camp. Awoke to a yak walking by tent and helicopter landing on the other side.

Emily says going strong.
Melissa says midnight bathroom runs great for the stars and moonlight snow covered peaks.

Today we passed the over 100 shrines, chortens, for the people who have died climbing Everest. Sobering.

The lodge was complete with a 2 year old dancing cherub who quizzed Terry on local wildlife.

All going strong today. Our time at altitude is paying off.

Tomorrow we will do an audio post from the height of 18500 on Kala Patar looking down on base camp. The written post may be delayed depending on cold and the time we get back to camp. Wish us a good climb.
---
Messages for this post
For: soha, rick and brave team
hay we r waiting to hear from u finally day arrived yeh awsome we r egarly waiting to hear from u that u r near himalay's top. great achievement we r proud of u all.hopefully all obstacls are behind now. congratulations to all. rick thank you very much for leading the group. specially damaroo and soha. they r very confident with u and have a high respect for u. we r waiting to hear from u from the peak . coming back also u must be posting the news eager to hear . best wishes with love jyoti
---
jyoti - 11/16/2013
For: soha
Hey soha I hope u doing good.i am proud of u n keep saying to all my friends that my ssis too is climbing everst. Wish u all the best. N safe climbing
---
dolly dhaval kumudmadi n mom - 11/16/2013
For: soha and Group
Hello all. Waiting to hear Video post from 18500. Such a great success of you all. Be safe and enjoy your achievement. All well here. Good luck and safe climb
---
Gita - 11/16/2013
For: Soha
I can't believe how close you are! I'm sure you're doing it to, but all those months of conference planning, family planning, wedding planning, trip planning.... And finally you're making the big push!i sure you're hope you're feeling the surge of relief along with the surge of elation. No matter all that went on, all that you accomplished, all that you helped make happen ... Each one will be recalled with - "remember that year you climbed Everest and... " !! Who gets to say that?! All
---
Sona - 11/16/2013
For: Lise
I do hope you feel better. Knowing how strong and totally resilient you are, Lise, this too will pass. Continuing to cheer you on and praying for speedy recovery and safe advancing. luv ya
---
cp - 11/16/2013
For: Lise
Hi Mom, Today C found out that he has 3 herniated discs and a few bulging ones thrown in for good measure. So I guess he wasn't faking! Everything else remains relatively quiet, "relatively" being the operative word. Dad is coming up tomorrow for dinner, we'll have a toast for you and drink some wine in your honor. Hope your cold is a little better and that you are feeling strong. Safe climbing, can't wait for the next update! Love, Bianca
---
Bianca - 11/15/2013
For: Becky and Terry
Onward and upward....one step at a time! Have fun, be safe!
---
Jim and Alice - 11/15/2013
For: Melissa
Hi Mom! I wasn't aware you knew all these famous people! What in the world? I was so glad that today was Friday! Man o Man! Hanging out tonight in my cape sweats with the puppers and Mike watching Twlight Zone. Love you and Miss you!
---
Kassi - 11/15/2013
For: Becky and Terry
Wow! You make us seem so lazy and out of shape...hmm Have a wonderful time ...thinking of you!
---
Mike and MA - 11/15/2013
For: melissa
It looks like the NSA has hijacked my previous post. I'll deal with them when I get out of rehab. Good luck tomorrow. Stay strong!
---
lindsey lohan - 11/15/2013
For: Kemily
Almost there. So exciting. Best to all on the final leg to high point and then base camp. BTW, UPS guy wants to know if deliveries should be made to base camp. Wasn't sure about the recent lull in deliveries. Hi to all. And thanks to Rick for taking good care of the climbers.
---
D. Duck - 11/15/2013
For: Soha and All
The real fun is about to begin! Or by the time you got this, maybe it already happened :) Enjoy your climb, I am sure it will be as rewarding as it is tough! Can't wait to see all (40) of the pics. Saw a story about Everest on a teacher's desk yesterday that the kids were going to read and it made me think of all of you - you're living it! Hope you get some R&R after the hike and views...I can't wait to hit my couch tonight, and I won't have been at 18,500 feet :)
---
Beej - 11/15/2013
For: Lise
GO LISE! Almost there. Great Job to you & ALL.
---
Linda & Lou - 11/15/2013
For: Soha & Team
Awwww yeah!! So close you can SEE it!! Happy climbing! I can't wait to see the pictures, I'm sure they're amazing.
---
Ruchi - 11/15/2013
For: Soha
Trust Mayank Fua to keep you updated about US politics. The stars in the night sound surreal! Good going! Soak in every moment. Xoxoxo
---
Vini - 11/15/2013
For: Adventureous gang
sounds like you all are having nice time up high. Best wishes for next target Kala Pathar. the highest point of the trip. All is well in USA except ongoing political bickering about Obamacare. stock market is booming-highest level ever like Dow at 15800. you all may find your investments jumped up quite a bit in last 10 days.so can start planning next trip with Rick to some other mountain. Cold here in Ohio 30's. Tell Soha all is well.
---
soha's uncle mayank - 11/15/2013
For: soha and team
Hello Soha, wish you all safe climbing, good climbing, lots of hugs
---
neki,pankaj - 11/15/2013
For: Soha,
Great to hear you all are very close and are strong. Did YAK came close by? Wish you and team very safe Climb.
---
Gita - 11/15/2013
For: Kemily
Was concentrating on word report, but great "going strong" photo too. :)
---
mom/mil - 11/15/2013
For: kemily
Great to see "Going Strong" report before heading to first graders. Definitely sending "good climb" wishes. Hugs.
---
mom/mil - 11/15/2013
No more comments are allowed at this time.