Viewing Post for: Everest Base Camp 2013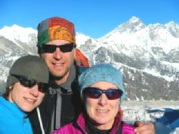 Date: November 11, Monday
Location: Renjo La Pass, 17,500 feet
Here is an audio post from the gang. Download or listen:
---
Messages for this post
For: Soha and Dameroo
Glad your experience has been so awesome! SOME of us are holding down the home front working away in the snow :-) We'll be anxious to see your pictures and hear your stories. You're both in my prayers. Continue to have much fun Sam
---
Sam Robinson (and Mayank) - 11/12/2013
For: Soha and DamarooMama
Soha!! Just listened to your voice!! After playing all weekend with the kiddos and thinking so much about our family - to hear your voice was a wonderful way to end the day. We're all so proud of both of you - your entire team is reaching deep to realize your dreams - something so few of ever do! Keep together. Keep strong and push through. We love you. Masi is right - Bhai and Ba would be so proud and in their stead we are! Love, Sona.
---
Sona - 11/12/2013
For: soha and damaroo
since 3 days i was in kutch so i could not sent u any message u guys r having tough times but so much to see that will be avery good memories we love to see those pictures which u sending i just heard soha voice amazing proud of u and love u we will see pictures and talk when we meet good luck to rest of the journey with love hello to all jyoti
---
jyoti - 11/12/2013
For: Lise
Looked at pics of Renjo La and they were unbelievable!! We can't wait to see your pics and hear all the stories. We're expecting some snow flurries tonight. Can't compare with what you are seeing lol!!! We're expecting Vince for dinner tomorrow and will check in with you together. Miss you but know you are well and having an unforgettable adventure. Much love to all of you!!! XXX
---
Marilyn and Charlie - 11/11/2013
For: Lise
Lise, had my "sitting MRI" today, and the machine was HUUUGE. Not "Everest Huge," but you would have flipped your wig nonetheless. I felt like the pilot of an alien spaceship. Making an appt with the neuro from Columbia, and with the guy from HSS. Tried to send out warmth and good vibes your way while I was in the MRI, figuring it might amplify them enough to get them to you. We can't wait to see you! Love from all the Tanises!
---
Chris - 11/11/2013
For: Soha and DamarooMama
YES! Go. Go. GOOO!! It's amazing what you and the entire group are doing....Can't wait to hear all about it. Stay strong!
---
Maulik and Ryan - 11/11/2013
For: Lise
Hope that you all got some rest and a chance to recuperate before continuing. It is cold enough here that we are making fires in the fireplace and the kids are wearing winter coats. Today I tried to get G to buy the book "Into Thin Air" at the bookstore but he loudly and somewhat indignantly declared, "Why do I need a book about Everest when I can get a firsthand account from my grandmother, I mean, she's there right now." You are certainly not like the other grandmas! Sendin
---
Bianca - 11/11/2013
For: For DAMAROO and SOHA
BA-BHAI, where ever they are must be so proud of you and blessing you all
---
Neki - 11/11/2013
For: melissa
Good job! WooHoo. Snow here tonight.
---
gypsy - 11/11/2013
For: Soha and Damroo
It's such a great feeling to know you are so close to your goal and doing very well. Enjoy nature at its best. Stay warm and healthy. can't wait to see you and listen to your adventurous journey. Take care, Love, Dipu
---
Dipu - 11/11/2013
For: Soha & Damaroo
Oh yeah and Mom is fine too :) we
---
Us - 11/11/2013
For: Lise
Lise we miss you all is well here hard to believe your so far away i'm relaxed knowing your in great ph condition I have some incrededable wine waiting for you dex keeps looking for you general, all instructions are being followed ,stay strong , I can 't wait to hear about this adventure your experiencing and see pics love Vince
---
Vince - 11/11/2013
For: Soha, Dad and the whole gang
What an amazing journey you are all on! We are proud of you and it's kind of cool to see the look on people's faces when I tell them where you are - because it's just that awesome! It must help to have the goal in your sight line - keep focused, healthy and warm! And ENJOY! We had an amazing weekend with family - raised over $8,000, not too shabby with a team of 5 fundraisers! :) Miss you both - can't wait to talk to you and hear all about the experience. Love you!!
---
Ruchi - 11/11/2013
For: soha,dj and all
great views, aha moments and above all. cool. hope all of you are doing fine. wish you very best for rest. not much more left. super. more photos and more laughs plus some out of the world memories, can not ask for more. have fun will talk to you when in delhi.
---
deepak - 11/11/2013
For: To " Adventours Gang"
Congratulations hope everyone safe and resting after strenuous day. Nice to hear Soha's voice You all are in our thoughts and prayers
---
Comfort creature Mayank and Alka - 11/11/2013
No more comments are allowed at this time.