Viewing Post for: Everest Base Camp 2013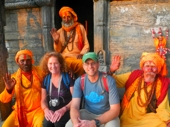 Date: Monday November 4
Location: Kathmandu, Nepal
We are here and safe. Visited ancient sites today. exciting as in the middle of the Hindu new year. We fly to Lukla tomorrow and will post more.
---
Messages for this post
For: soha and dj
all is well. happy new year. have a good time.
---
deepak - 11/6/2013
For: tom
Oh my god Tom, seeing you in that picture with the mountains behind you - WOW! You're really there! I hope it's as exciting for you to be there as it is for me to see you there. Eager to hear how it is for you, ALL your thoughts and feelings, every minute of every day - please!!! Just looked up in Emily Post but she was no help - what to say to someone about to climb Everest. So bon voyage, break a leg, tata, give 'em hell.
---
Liz - 11/6/2013
For: Lise
Charlie: How are you doing, Mormor? How was your night at Mt. Everest, camping? Garret: I hope you're having a great time hiking up the rooftop of the world and immersing yourself in Nepalese culture. Chris: Lise, you kick major butt! All the Tanis boys love you and miss you and think you are a daring adventurer. If you see Tenzing Norgay, tell him we all know he got there first!
---
The Tanis Boys - 11/5/2013
For: Damaroo, Soha and Team
As you fly to Lukla and start your climb, have great wonderful time and safe climb.
---
Gita - 11/5/2013
For: To the gang of 12
Hello everyone , glad to learn adventure going well enjoy and connect with nature you are on a exciting journey that some of us just dream about Wish you all a happy,safe ,,exciting, and. Not soooooo cold days ahead
---
Alka & Mayank. (Soha/Damaroo. Family) - 11/5/2013
For: To?Ed (maximum 255 chars)
Hi hon. So glad you are safe. All good here, except phone died a complete death and hope I didn't miss a message from you. Kids good.
---
FrYour familyom? (maximum 255 chars) - 11/5/2013
For: Lise
Hi Mom! We are so excited for you and happy to hear that you are on your way to the mountain. Make sure that you take lots of pictures for us. Garret can't wait until you return, he has 1,000 questions! Lots of love. We are thinking about you and wishing you a safe journey. Love, the whole wacky gang
---
Bianca,Chris, Garret and Charlie - 11/5/2013
For: Emily and Ken
The adventure begins! Sounds like everything is off to a great start. Eat some yogurt to introduce the local "ecology" to your digestive system. Can't wait to hear about you flight to Lukla. All our best, Rob and Jeanne
---
R&J - 11/5/2013
For: Melissa
Glad you made it safely! Hope you have an amazing adventure! We miss you!!!
---
Kassi - 11/4/2013
For: Kemily
So glad you made it there safely. :) Have a fantastic adventure!!! Will be checking in on this site every day!!!
---
Joby & Lou - 11/4/2013
For: To? Kemily
WOOF…Miss you. Just got back from pre-dinner walk…39 degrees…my kind of weather. Had fun but they made me stay on leash. Am sleeping at bottom of stairs with your shirt and pants. Happy trekking.
---
From? Q - 11/4/2013
For: To Lise
So glad you arrived safely. Hope you're enjoying the sights. Vince coming for dinner Tues. Miss you and are so proud that you're doing this trip! XXX
---
From Marilyn and Charlie - 11/4/2013
For: Damaroo and Soha
Happy New Year. Damaroo, Happy Bhai-Beej. Have lots of fun. Thinking of you all.
---
Gita - 11/4/2013
For: To? damaroo and soha
...took little more time to write hope you both with all will be enjoying sightscene and rested well.now ready for great trip. wishing u happy new year and good luck to yout adventure jyoti and mom
---
From jyoti - 11/4/2013
For: Soha & Damaroo
Have fun and be safe! Dad - mostly that means you :)
---
Ruchi - 11/4/2013
For: Emily and ken
.glad the trip is underway. Have a great time.
---
Donald Duck - 11/4/2013
No more comments are allowed at this time.