Viewing Post for: Turkey: Mt. Ararat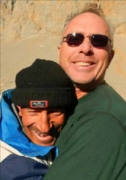 Date: September 13, Friday
Location: Driving to Kayseri in van at moment.
3 hours hiking down to 6000 feet.

Most of today's exotic experiences are yet to come. We have finished the 5 days of hiking by coming out this gorgeous canyon. Being reunited with our bags we put on our clean clothing to to a Turkish night in town. Several are going straight to the Turkish barber before our Turkish bath. We are pretty excited for our Turkish night. We will let you know how it goes assuming we can post via satellite on the train tomorrow.
---
Messages for this post
For: GARY
Type your message here...HOPE YOU ARE HAVING A GREAT TIME. LOVE,MYRA
---
MYRA - 9/14/2013
For: Chris
My phone is very quiet when you are away. Hope you enjoyed your Turkish night on the town - especially the massage! Miss you. Happy travels. Love D
---
Deb - 9/13/2013
For: John P.
Somehow I do not remember your mentioning the Turkish baths, massages and belly dancers as a part of this trip but whatever! I hope it is all relaxing enough to unkink tired muscles and allow you a good night of rest on the train. Give my best to Dave and good luck to you both on the next ascent. Love, Pris
---
Priscilla - 9/13/2013
For: Everybody
Be sure to try some yummy tripe soup. John can explain. Safe travels!
---
Jeanie - 9/13/2013
No more comments are allowed at this time.