Viewing Post for: Inca Trail II 2013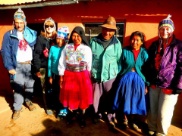 Date: August 7, Wednesday
Location: Amantani island, Taquile Island, Puno.
Special experiences. Not sure which one to start with. Memorable moments. Dressing up in the local clothing and dancing with locals. Sharing meals in our home stays with our mamas, some cooked over clay wood fired ovens. Floating in a reed boat from a floating reed island. It was sad to leave our families. The farewell is not goodbye but we will see you tomorrow, the next week, the next world and the response is we will see you there.
We saw a small child with an eye malady that Jeff our Dr. noticed could cause blindness. We investigated further. We have arranged a Dr appointment with the family back on the main land tonight.
We will see what develops. We have been reading your post each day and appreciate you following us. This is our last post. We will spend Friday exploring Lima before our flights home.
PPS will be posting again starting September 10 as we go to Turkey to climb Mt Ararat and again in November from Nepal on the way to Everest Base Camp. We hope some day you can join us.
---
Messages for this post
For: Dan, Cookie & Linda
Enjoy your last few days. Looking forward to talking to you about your trip. Have a safe flight home!
---
Pam A - 8/8/2013
No more comments are allowed at this time.