Viewing Post for: Inca Trail II 2013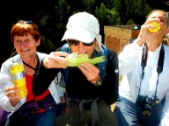 Date: August 4, Sunday
Location: Cusco, Peru
Lots of culture. Some of us went out dancing in a disco last night. Wild, fun and crazy dancing, dancing with the locals, loud, really loud music, flashing lights.
Up for city tour. Wonderful sites but the local experiences like the huge parade, corn and cheese from street vendors really added to the normal viewing of the cathedral.
But the drink in the market of beer, milk, pollen, coco, carrot, pineapple, apple, honey, cereal, sugar topped it all, and it was only 2 dollars for a whole pitcher full.
Right now we are waiting for our wood fired pizza listening to a local musician who walked in.
---
Messages for this post
For: Kris
The tough stuff is over, so it sounds like a super fun time from here on. Corn and Pizza--wow--. Looks like you chomping down the corn. Enjoy the local culture and stay with a family. Love, MOM
---
Mom - 8/5/2013
For: Kelly, T and ZZ
Wood fired pizza and beer? Ya you're really roughing it!
---
Kory - 8/5/2013
For: Kris
Is that you in the pix eating the corn? Hard to tell who's who in the photos...very small.
---
Mary - 8/5/2013
For: Kris
Happy Belated Birthday. Did you tell anyone? Did they sing HB song? Sounds like you're having a great time and hope you're old body is able to keep up with all this hiking. Sounds very exciting yet exhausting. Are you able to keep warm enough? Miss you here but I bet not the same way for you. Different world where you don't have a care in the world except keeping up. Hang in there and continue on your adventurous trek to God's land! ENJOY and see you soon. Out of letters.....
---
Mary - 8/5/2013
For: Dan, Cookie, Linda
Looks like you are enjoying that special drink. I'm glad you survived the climb. Curious to see if you were in the group that climbed to Wayna Picchu and needed to walk down! Enjoy your ride on the Orient Express tomorrow. It sounds like you need a relaxing luxurious day.
---
Pam A. - 8/4/2013
No more comments are allowed at this time.